Deliciously warming healthy vegan lentil moussaka - oven-ready in just a few simple steps and perfect to feed an entire family or as a delicious healthy vegan meal prep.
Vegan Lentil Moussaka Recipe
When the days get colder, the meals get warmer: couldn't be more true when it comes to this delicious healthy vegan lentil moussaka that will definitely bring some warming comfort to your home as the cold time of the year approaches.
I love creating a simple dish like this - easy to prep with simple whole food ingredients and oven-ready in just 15 minutes, and then let the oven do the rest whilst the home fills will all the delicious scents of a homemade meal. Whether you want to surprise your family with this delicious dish - or simply meal prep for the week, it's perfect either way.
There are 3 main parts to this dish: the baked potato & aubergine layers, the lentil filling, and the béchamel sauce topping, which are all prepared separately, but at the same time (if you know what I mean - if not, just continue reading ;)).
Creating the 3 layers of this healthy vegan lentil moussaka
To start off the prep for this delicious comfort meal, I like to begin with slicing the aubergines and potatoes. If using organic potatoes you're more than welcome to leave the skins on - I personally prefer it this way. However, if they're non-organic or simply very 'earthy' I'd recommend peeling them first, which can of course add to your preparation time.
It's best to use a sharp kitchen knife to cut the large aubergines lengthwise. I like to remove the stem of each aubergine before slicing in this case. For the potatoes, the quickest and most effective method is a mandolin on the large setting (but use the protector and be careful with your fingers ;)). This way, you'll have everything sliced and ready in no time!
Cover two baking trays with parchment and spread both the potato and aubergine slices across in a single layer. Gently brush with a little olive oil and sprinkle with salt and pepper. Then transfer to the preheated oven for 20 minutes.
Cooking the lentil mixture
In the meantime, prepare your lentil filling: Start by heating the olive oil in a medium-size pan, add the onion until translucent, then follow up with the garlic. Cook for 1 minute, then add the tomato puree, chopped tomatoes, all spices, and the tin of lentils (drained). Cook for a further 5 minutes on the stovetop and make a start on your béchamel sauce whilst your lentil mix is cooking away.
Simple vegan béchamel sauce
For your béchamel sauce simply add vegan butter, soy milk, cornstarch, nutritional yeast, sea salt & black pepper as well as a pinch of nutmeg to a small saucepan and bring to boil whilst continuously whisking. Once bubbling reduces the heat to a minimum and continue to stir until the sauce is thickened, then remove from the stovetop.
Once all your 3 parts for the healthy vegan moussaka are prepared, you can move over to assembly! As you can tell from my images I've used a large oven-proof dish for my moussaka and it just about fit all the fillings. As it's an oval shape, it's difficult for me to guess its size in diameter, so I'd just recommend you use the largest one you have to hand (mine was just about big enough!) and ensure to grease it prior to adding your ingredients.
Begin by laying out a single layer of the baked potato slices and follow up with a single layer of the aubergines, then gently pour in the lentil mixture and smooth it out. Add the remaining baked aubergine slices in layers on the top, followed by the rest of the potato slices in the same manner, then pour the béchamel sauce on top evenly.
Transfer to your oven for about 30 minutes or until golden.
This healthy vegan lentil moussaka recipe is:
tasty
100% vegan
dairy free
egg free
naturally gluten free
delicious
family friendly
easy to re-create
oven ready in just 15 minutes
using delicious whole foods
perfect to feed the family
a delicious meal prep recipe
wholesome
nutritious
nourishing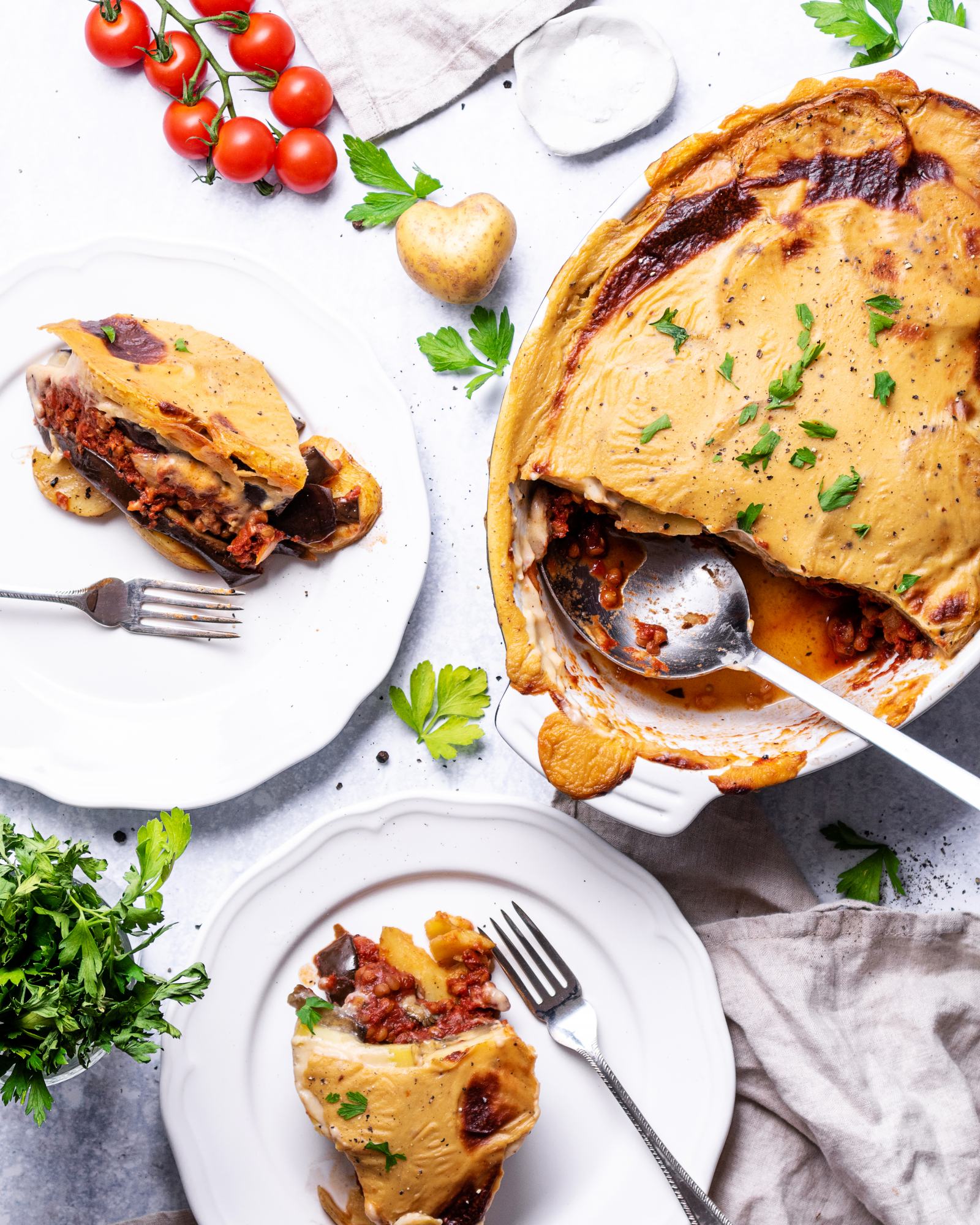 📌 If you love Pinterest you can pin any of the images to your boards!
Print
Healthy Vegan Lentil Moussaka
Author:

Prep Time:

15

Cook Time:

30

Total Time:

45 minutes

Yield:

6

portions

1

x

Category:

Mains

Method:

Baking

Cuisine:

Vegan
---
Description
Deliciously warming healthy vegan lentil moussaka - oven ready in just a few simple steps and perfect to feed an entire family or to use as a delicious healthy vegan meal prep.
---
For the base:
1

kg potatoes, peeled

3

large aubergines
Extra Virgin Olive Oil to brush
Sea salt & pepper to sprinkle
For the lentil filling:
1 Tbsp

Extra Virgin Olive Oil

2

tins of organic lentils, cooked

200g

tomato puree

200g

chopped tomatoes (tinned)

1

large yellow onion, chopped

2

cloves of garlic, minced

2 tsp

dried thyme

1 tsp

oregano

1 tsp

paprika powder

1 Tbsp

maple syrup

1/4 tsp

ground cinnamon
Sea salt & pepper to taste
For the béchamel sauce:
2 tbsp

vegan butter

500

ml soy milk

1.5 Tbsp

cornstarch

2 Tbsp

nutritional yeast
sea salt & black pepper to taste
pinch of nutmeg
---
Instructions
Preheat oven to 200C.

Cut the aubergines lengthwise into about 4-5 slices, equal in thickness. Slice the potatoes slices of around 1cm thickness and arrange all on 2 baking sheets. Lightly brush them with olive oil, sprinkle with salt & pepper and bake for 20 minutes.

In a medium size pan, heat the extra virgin olive oil, add the onion and cook for 3 minutes or until translucent. Add in the garlic and cook for another minute, then add in the tomato puree, chopped tomatoes, spices and lentils. Simmer for a further 5 minutes. 

Prepare the vegan béchamel sauce by whisking all ingredients in a medium size saucepan on medium heat, simmer until the sauce thickens and set aside.

Grease a large oven proof baking dish and arrange roughly half of the baked potato slices along the bottom, then top with a layer of aubergine. Gently pour in the entire lentil mixture, add the remaining aubergine slices, top with the rest of the potato slices and finish off by pouring the béchamel sauce across the top of the dish.

Transfer the dish to the oven for about 30 minutes on 180C and serve either fresh or keep in the fridge for up to 3 days.
---
Notes
The portions of this dish are perfectly freezer safe and make for a delicious meal prep!
Keywords: vegan moussaka, meat free, meat less, moussaka, lentil moussaka
Looking for more delicious vegan dinner ideas? Check out more recipes on my website - and if you're looking for a dessert to follow up with, check out my delicious vegan cakes & bakes.
*Disclosure: This page may contain affiliate links and sponsored links that earn me a small commission, at no additional cost to you. You can find more information in my Privacy Policy.
 © Romy London / Romina Callwitz | All images and content are copyright protected. Please do not use my images and content without permission. If you wish to re-publish any recipes or images, please get in touch via email. Thanks for your support!