If you've been following my blog for a while, then you might know: I do love a good pasta dish! It's one of my all-time favourite comfort meals (yes I did eat my fair share of pasta during childhood days!)
But you might also know that I have been through 2 phases of vegan keto in the past year, and it was during the first of these phases that I first stumbled across bean & lentil pastas. This pasta is vegan, packed with protein and fibre and low in carbohydrates, which makes it perfect for a low-carb (or keto diet)! Oh and did I mention that it's gluten-free also?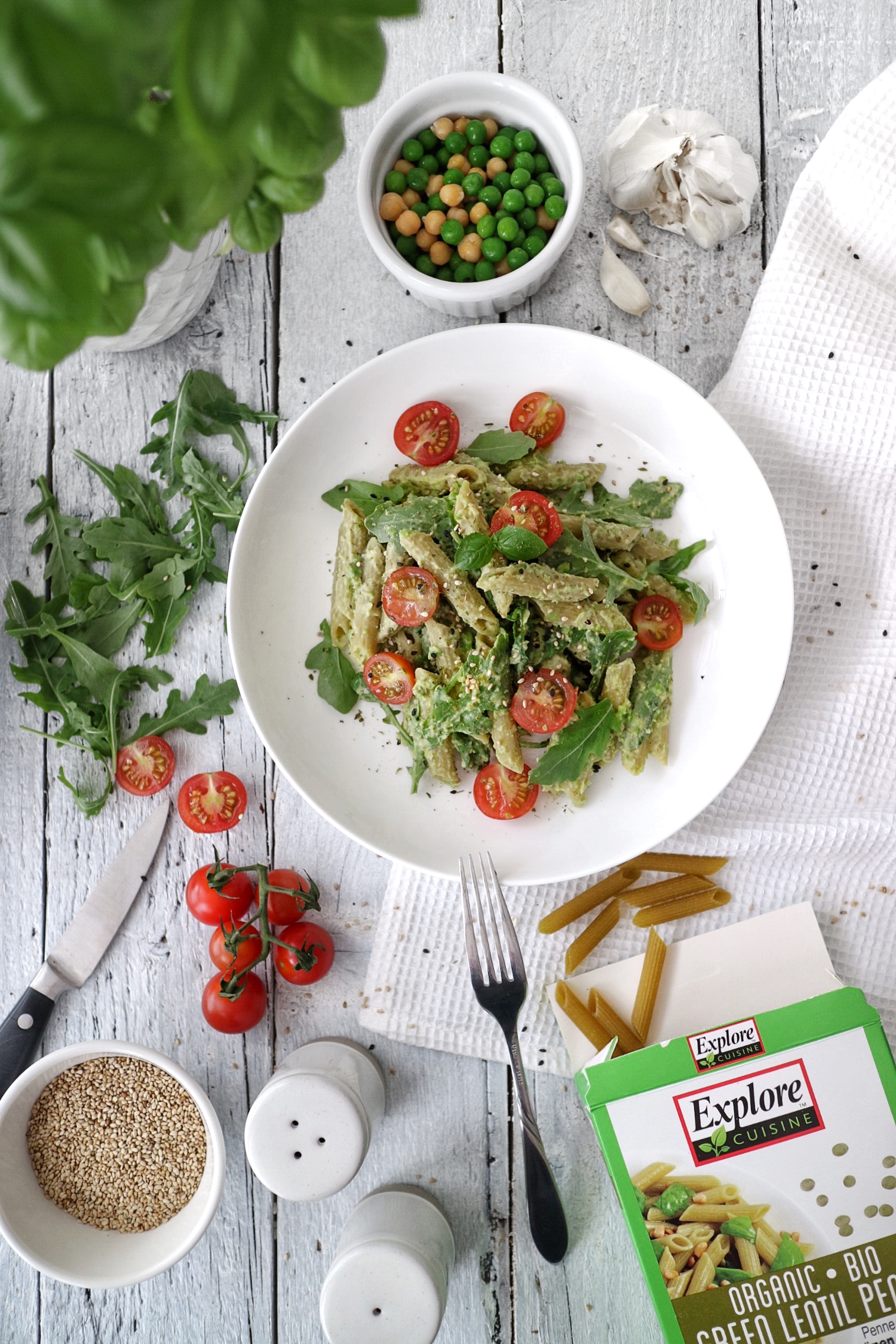 I remember the first time I tried a non-wheat pasta and I have to admit that I was unsure how to prepare it at first – or at least unsure about what would go well with it. Whilst the texture is very similar to wheat pasta, I quickly realised that bean & lentil pasta has its own flavour, which is stronger than wheat pasta- and I was unsure how to incorporate it into a delicious dish. But we love a good challenge, don't we? 😉 I believe my first ever bean pasta was eaten on keto – cold & with vegan mayonnaise, which is actually incredible despite sounding like a rather odd meal (welcome to vegan keto, ha!)
I have been a loyal buyer of Explore Cuisine since coming across their Edamame Bean Pasta and I am absolutely thrilled to be working with them on their #UseYourNoodle campaign.
Explore Cuisine's range includes everything from Edamame Pasta to Black Bean and Lentil Pastas – and also in all shapes from Spaghetti to Penne! As I have so far been sticking to their Edamame pasta (simply for the high protein/low carb content!) I am excited to try the rest of their range, such as the Green Lentil Penne that I used in this recipe.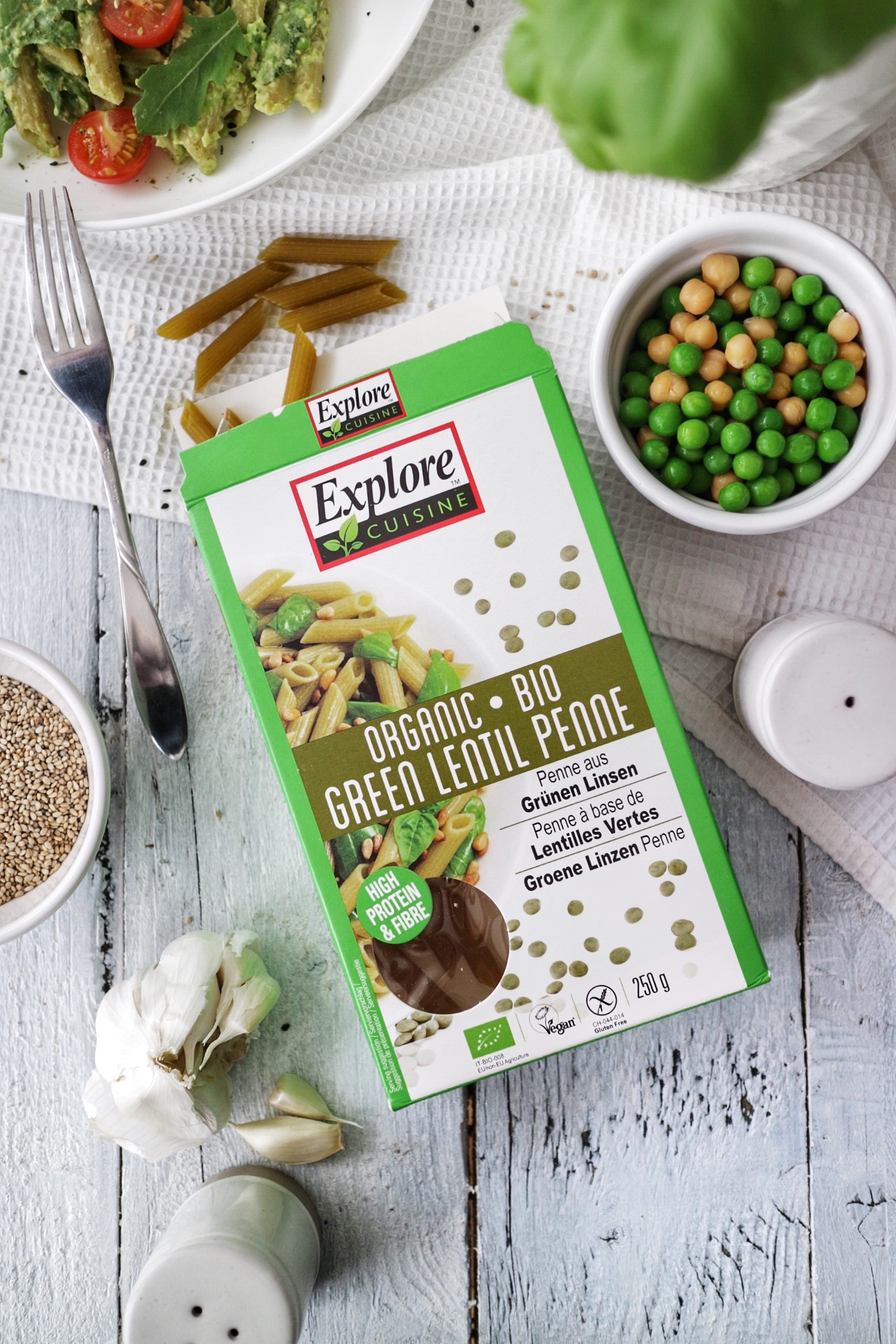 With 21.2g of protein per 100g the Green Lentil Pasta is high in protein – in case you did not know: A product classes as 'High in Protein' when more than 20% of its calories come from protein. It also only takes 7-9 minutes to cook, which makes it a quicker meal than regular penne, which normally take around 10-13 minutes to be ready.
With regards to this recipe: What has inspired me to this dish, was the thought of creating a delicious dish that's naturally high in protein, and seeing that the lentil pasta ingredients contain pea flour, I thought 'Hey let's make a pea pesto' and this is pretty much how this recipe started 😉
Each plate of this tasty goodness is filled with delicious, plant based protein (oh and yes, don't ever ask again where vegans get their protein from!)
This Lentil Penne with Pea Pesto & Cherry Tomatoes can be enjoyed both warm & cold, which means that it's not only great to be shared with friends & family (I actually shared this with my friend Christian, who came around for lunch!) but also makes it the perfect lunchbox filler! It only takes about 10 minutes to prepare and makes the meal prep super quick and easy.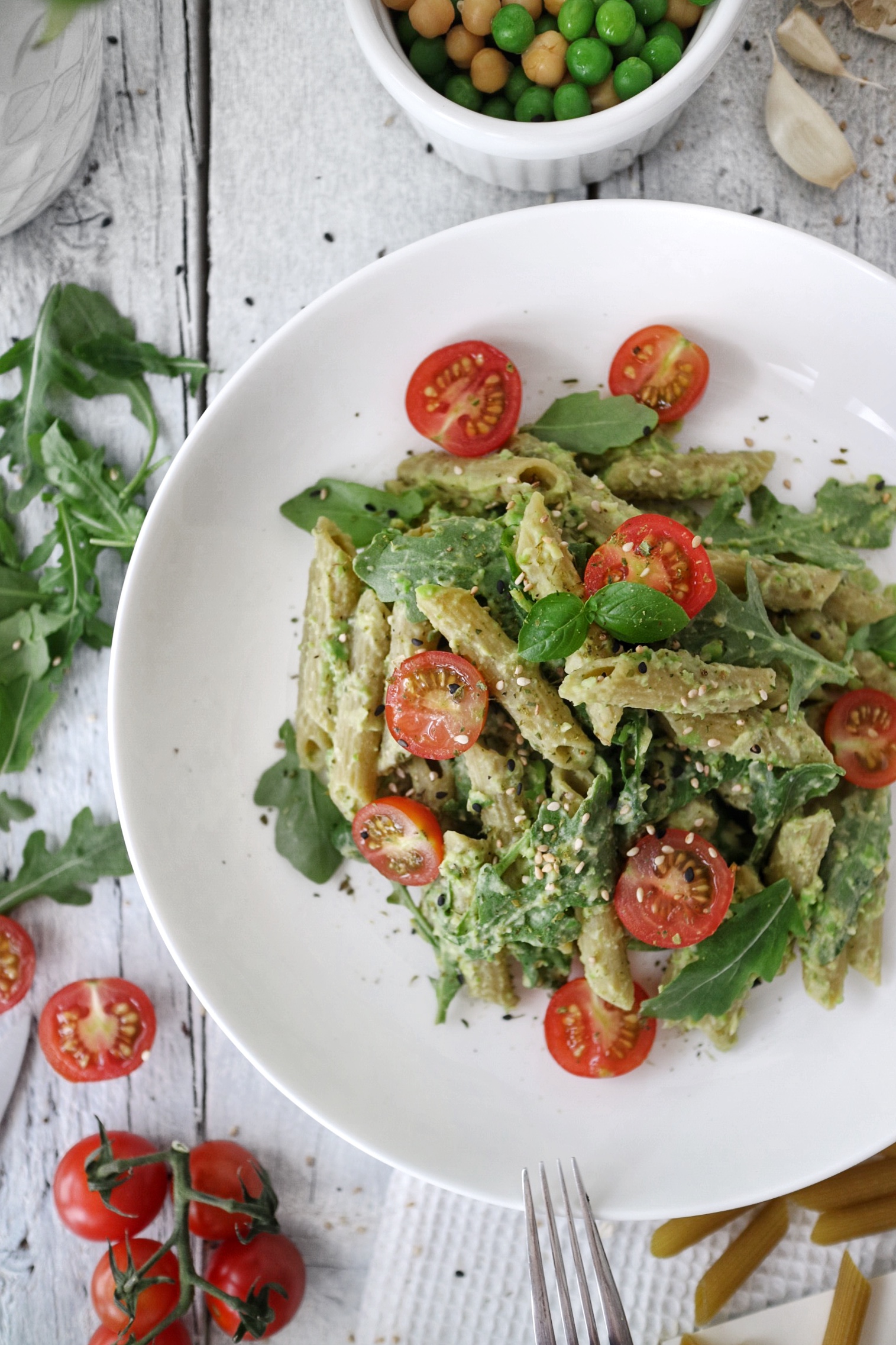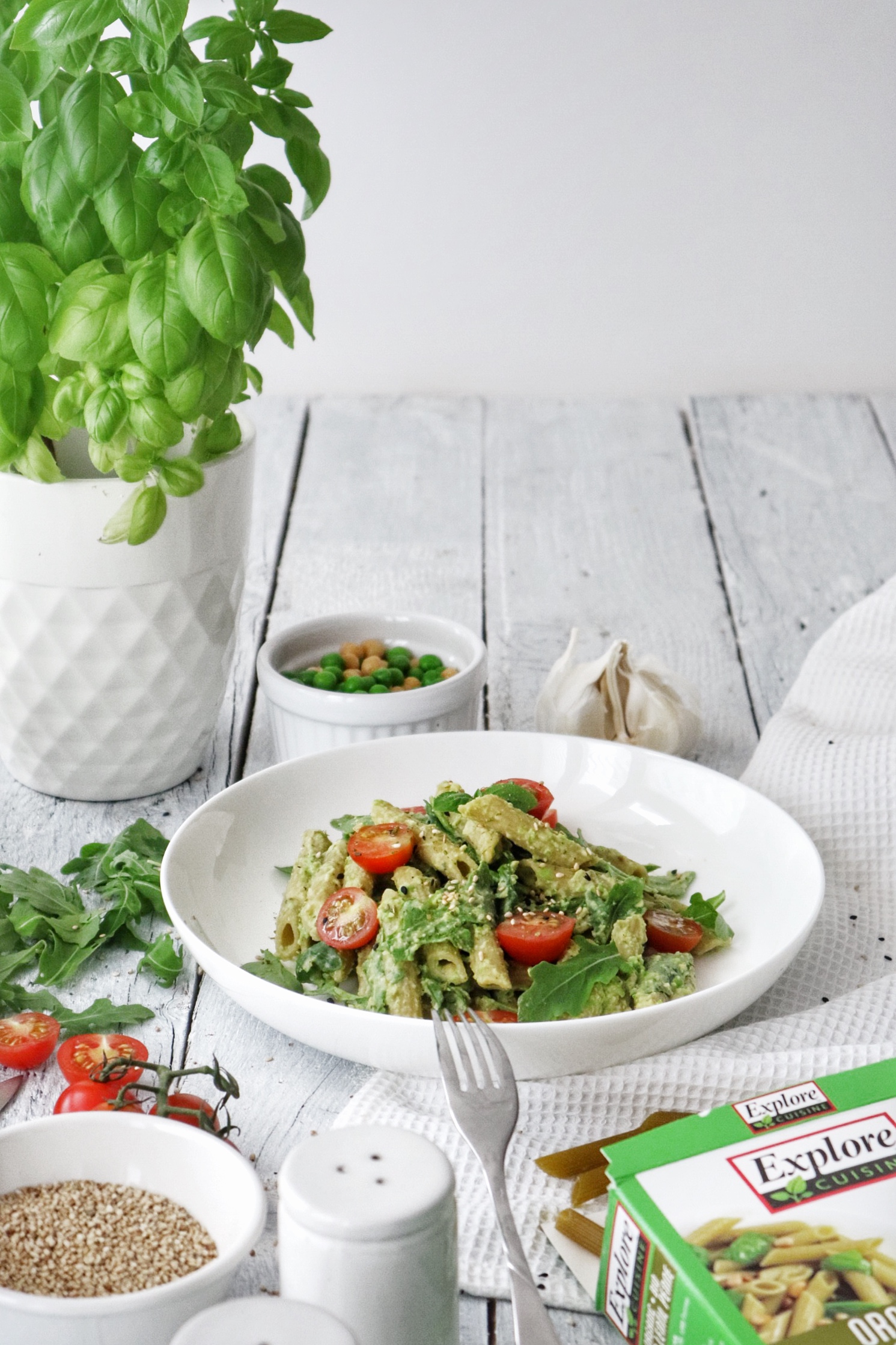 Ingredients (serves 3-4)
250g Explore Cuisine Green Lentil Penne (1 box)
2 handful fresh Basil
200g Peas
200g Chickpeas
1 clove Garlic, minced
1/2 tsp Salt
1/2 tsp Onion Powder
1 Tbsp Flaxseed Oil
Juice of 1/2 Lemon
2 handful fresh Rocket Salad
200g Cherry Tomatoes
Sesame Seeds for topping (optional)
Method
1. Bring about 1 litre of lightly salted water to the boil in a medium saucepan, then add the Green Lentil Penne and reduce to a medium heat.
2. Whilst the penne is cooking, prepare your pea pesto by adding the peas, chickpeas, garlic, salt and onion powder to a blender. I've used frozen peas in this case, that I defrosted upfront in lukewarm water. Blitz the ingredients until roughly combined, then add the flaxseed oil, lemon juice and about 3 Tbsp of pasta water to the blender.
3. Blend until the pesto is smooth – you might have to use a spatula to scrape down the sides of your blender in between, so all peas and chickpeas are mixed up properly in the pesto. I like my pesto smooth, but of course if you don't mind it a little chunky, then feel free to only roughly blend it all together.
4. Drain the pasta once the cooking time elapses & shortly run cold water through the colander to stop the cooking process of your penne.
5. Return the penne to the empty saucepan, then add the rocket salad & pesto and thoroughly combine.
6. Plate the pasta dish & then top with cherry tomatoes & sesame seeds.
7. The most important step: Enjoy!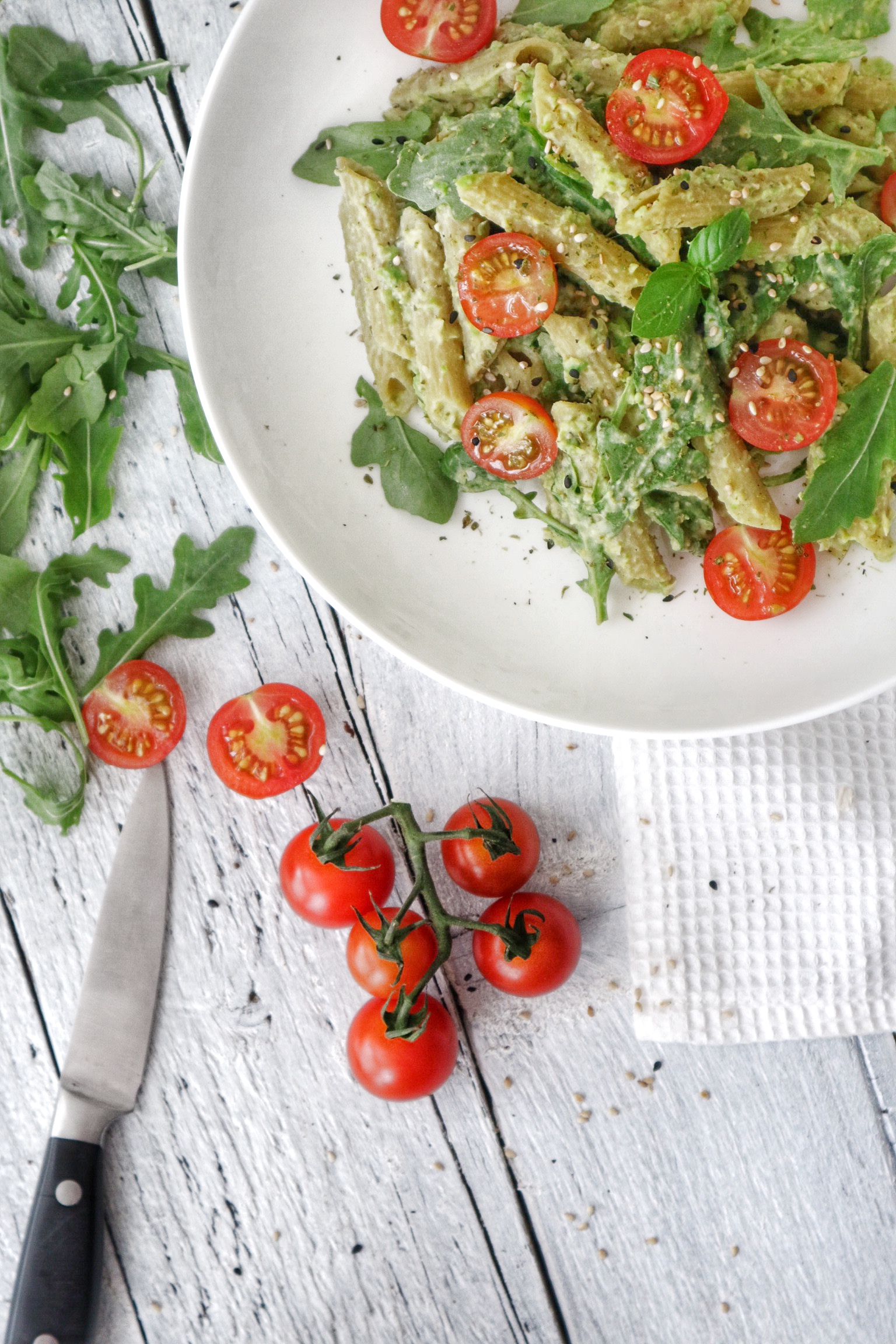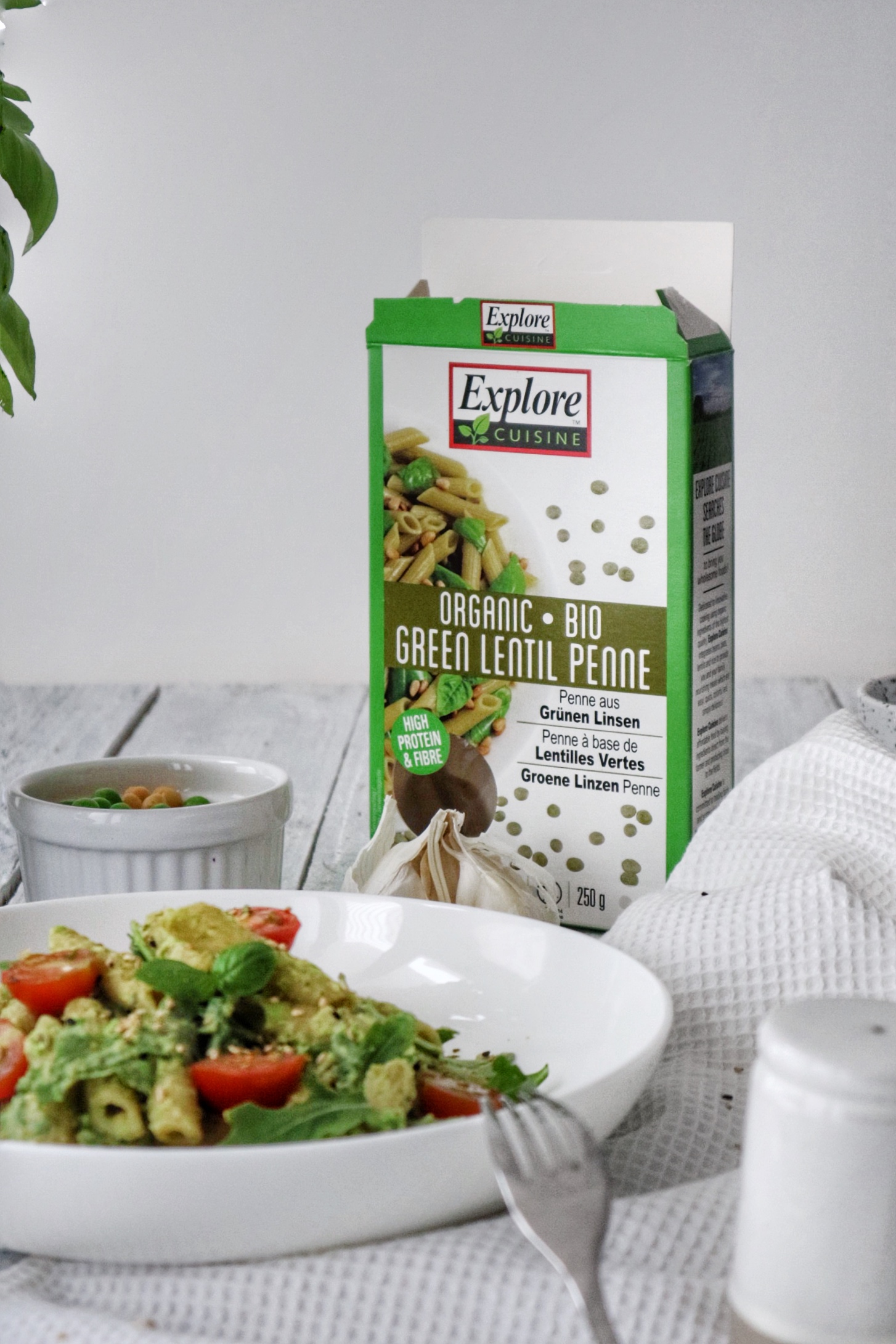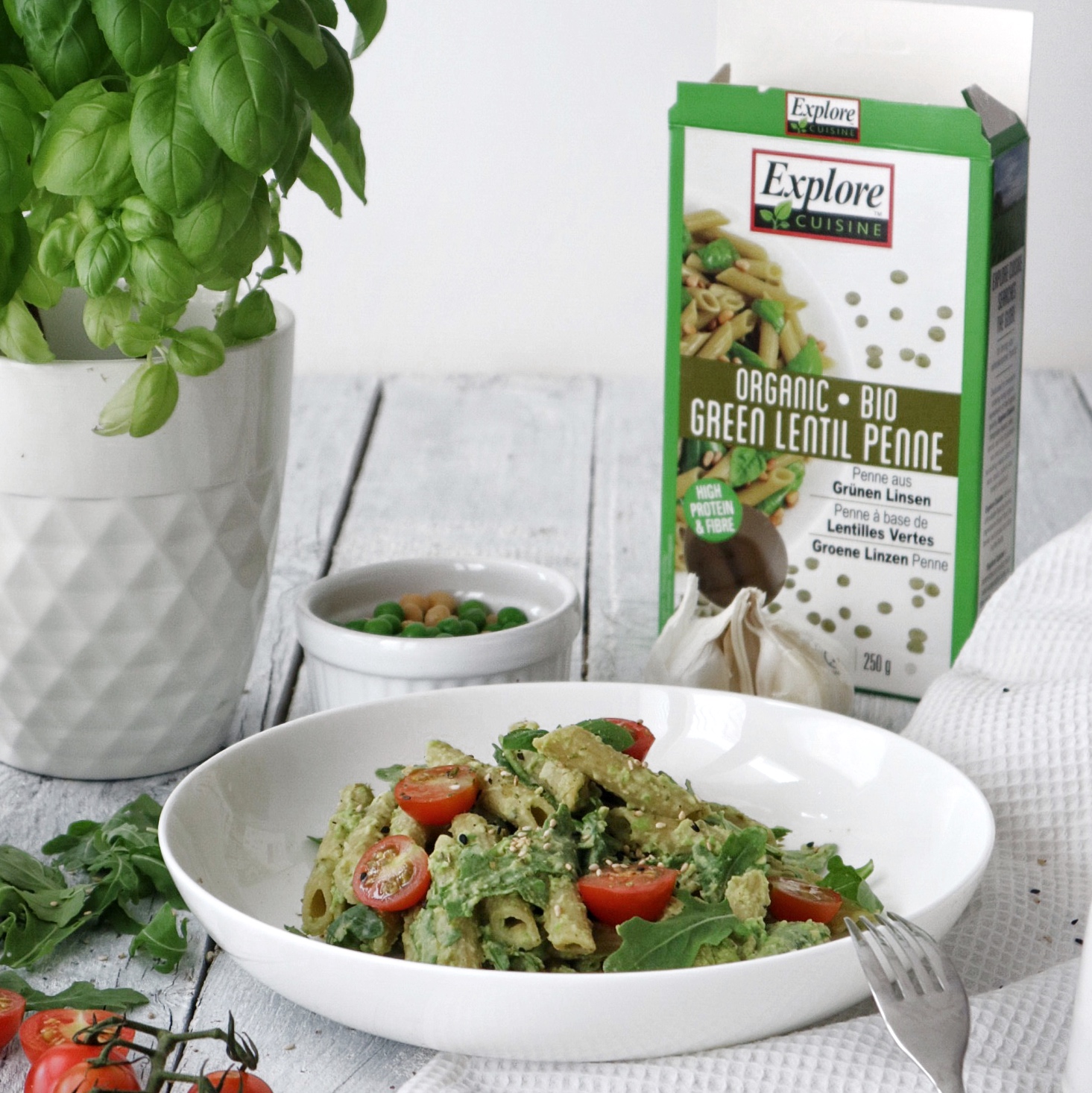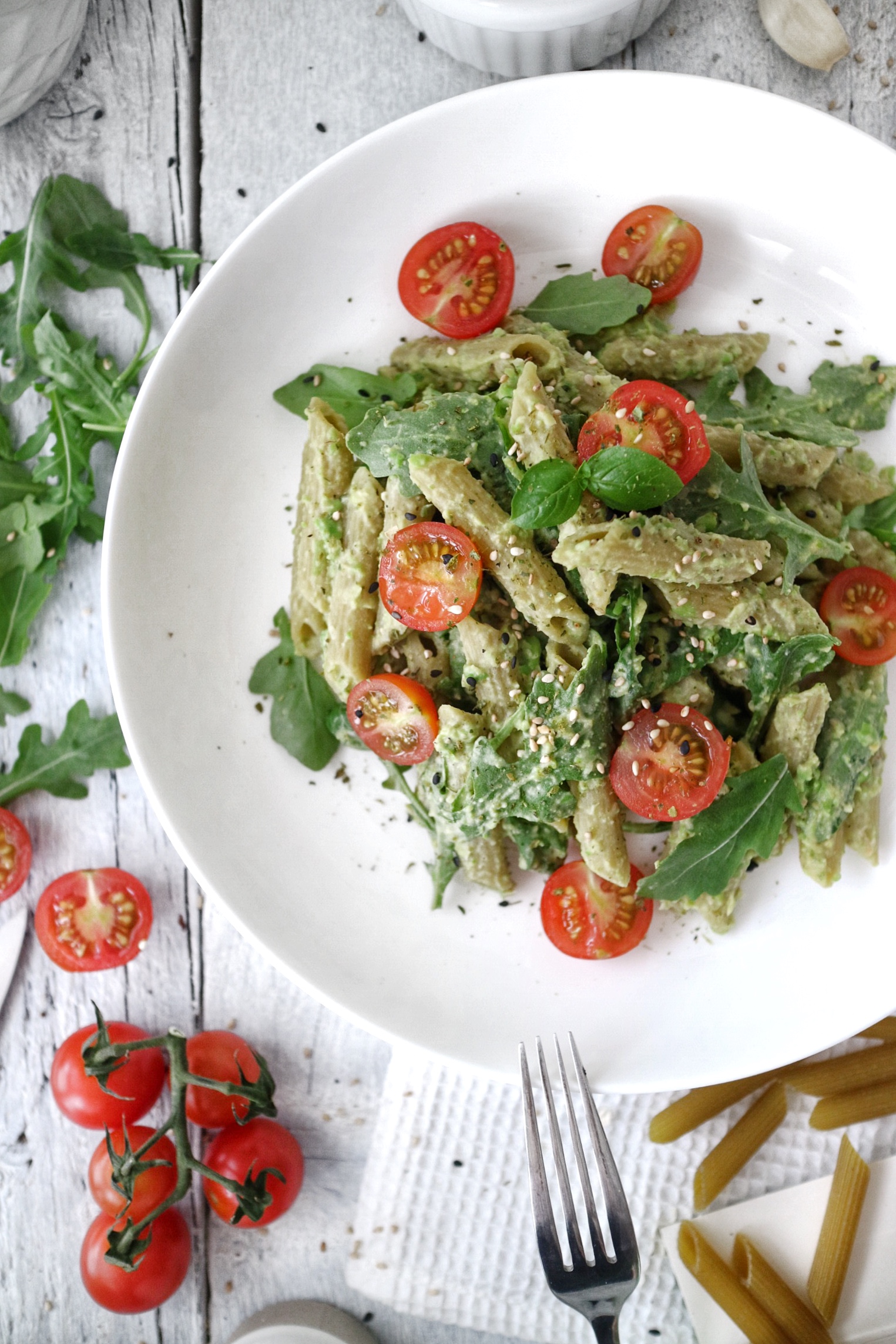 Top tip: The pasta tastes absolutely splendid topped with a good serving of nutritional yeast! #noochforlife
This blog post contains a paid collaboration with Explore Cuisine. You can find out more about the brand and their products on the Explore Cuisine Website.