The ultimate easy vegan cinnamon rolls recipe - wonderfully fluffy and made with only 6 simple ingredients. Simply delicious!
Cinnamon is part of the Christmas season as much as Santa himself if you ask me! Since I've been a child I've loved everything cinnamon flavoured - from cinnamon buns to cinnamon toast crunch cereal (for which I also have a tasty vegan recipe on the blog btw!), cinnamon was ranking high on my list of favourite flavours, so today I'm sharing with you my easy vegan cinnamon rolls recipe!
Throughout the years I've tested a whole bunch of cinnamon roll recipes, however, I like my cinnamon rolls soft and fluffy and I find that a lot of the recipes I've tried beforehand have turned out rather dry and hard to bite into instead. That's not the case with this recipe for sure - with a simple baking hack, that I'm describing further below, you can create the most delicious, soft vegan cinnamon buns from scratch - and all of that without any complicated ingredients or equipment.
Ingredients
plain flour
plant milk
yeast
caster sugar
salt
rapeseed oil
icing sugar (optional)
Equipment
mixing bowl
small saucepan
small bowl
measuring jug
whisk
pizza cutter or a sharp knife
teatowel
oven dish (or cast iron pan)
baking parchment or baking mat
Instructions (Step-by-Step)
To create the wonderfully soft and fluffy texture in this easy vegan cinnamon rolls recipe, there are 2 things I make use of: yeast and a simple baking hack!
The secret to making soft and fluffy cinnamon rolls
With a look at my ingredients list, you will spot that I've divided the flour and plant milk into 2 separate portions, and there's a good reason for this: to create the perfect dough texture, one part is heated on the stove until you get a sticky and gloopy flour/milk mixture - the other half is combined with the remainder of the dry ingredients.
This technique originally comes from Japanese baking, where it's called 'Thangzhong' and is a great way to create soft and fluffy vegan bakes without the use of eggs or dairy.
The wet ingredients are combined in a separate jug.
How long to knead the dough
Pour your wet ingredients into the dry and also add the sticky flour/milk mixture and combine everything with a spoon. It will soon become a sticky mission, so once it's too difficult to stir with a wooden spoon, switch to using your hands and first combine the dough ingredients in your mixing bowl, then transfer the dough to a floured surface for some extra kneading.
The important thing to note then kneading the dough with your hands is to not over-knead it as it can otherwise compromise the rise of the dough and the texture or your finished bake. I usually knead my dough for about 2-3 minutes - as soon as it turns into a smooth dough, that's easy to handle but doesn't stick to your hands, simply knead 2-3 more times, shape into a ball and then your dough is ready to rest.
Add a little rapeseed or coconut oil to your mixing bowl to prevent the dough ball from sticking, place the dough inside and cover with a damp teatowel. Place the mixing bowl in a warm place - I usually like to turn on my oven at 50C for 1 minute, then turn it off and place my bowl in the closed oven. Allow for the dough to rest for 90 minutes.
How to fill cinnamon rolls
For the filling of the cinnamon rolls, simply combine the sugar, cinnamon and a little bit of water (about 3-4 tablespoons) in a small bowl until you get a spreadable paste. If you're swapping for a different type of sugar, you might need more/less water - simply adjust to get a spreadable paste that's not too runny.
Once your dough is rested, knead it on a floured surface for 1 minute, then gently roll it out into a rectangular shape of roughly 1 cm thickness.
Spread your cinnamon mixture on the top, leaving about 1 inch on one edge. Using a sharp knife or a pizza cutter (I like to use the latter as I find it quicker and easier) cut your rectangle into 8 equally thick strips (about 3-4cm/2 inches). The clear edge should be at the end of your strips. Carefully roll the strips into 8 equal cinnamon rolls and place them onto a lined baking tray or a baking mat - cinnamon swirl facing up. Cover with a damp tea towel and allow to rise in a warm place for another 30 minutes. You can also rest them in your baking dish - you can use anything that allows for the cinnamon rolls to comfortably sit next to each other with a little space in between.
Baking your vegan cinnamon rolls
After 20 minutes of resting, pre-heat your oven to 180C - it's important it's fully preheated before you add your cinnamon rolls, otherwise, the bake might not rise properly.
Once fully rested, remove the tea towels from your cinnamon buns and transfer them to your oven dish (if you haven't rested them in there yet). I've used a round cast-iron pan on this occasion. I personally like my cinnamon rolls to only slightly stick together, so they don't rise into crazy shapes in the oven, but also are not completely stuck to each other. To do this, I place them into my baking dish (or pan) with about 1-2 cm space between them.
Transfer your baking dish to the oven and bake for 12-15 minutes in the middle of your oven or until your cinnamon rolls are nice and golden all over.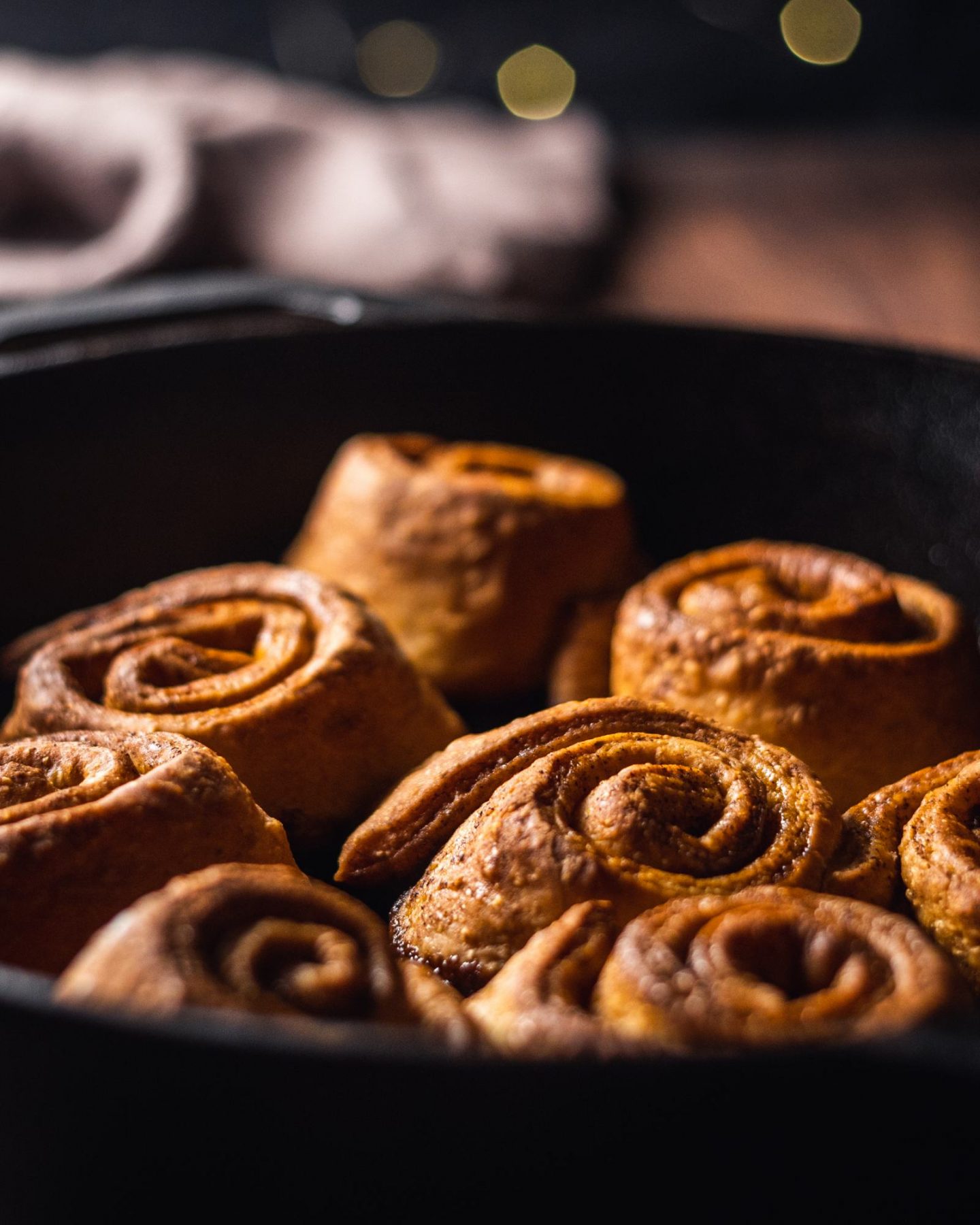 Adding the glaze
Whilst your cinnamon rolls are in the oven, prepare your sugar glaze by combining the icing sugar with a little bit of plant milk at a time until you get a thick, but a slightly runny mix.
Remove your cinnamon rolls from the oven, once they get to the perfect colour and allow for them to cool down slightly before adding your glaze. If you're looking for that 'cracked glaze look' on your rolls, drizzle the glaze immediately to your hot vegan cinnamon rolls.
I love mixing my glaze with plant milk to get it properly thick and bright - but you can also add a lemon glaze by mixing the icing sugar with lemon juice instead of plant milk.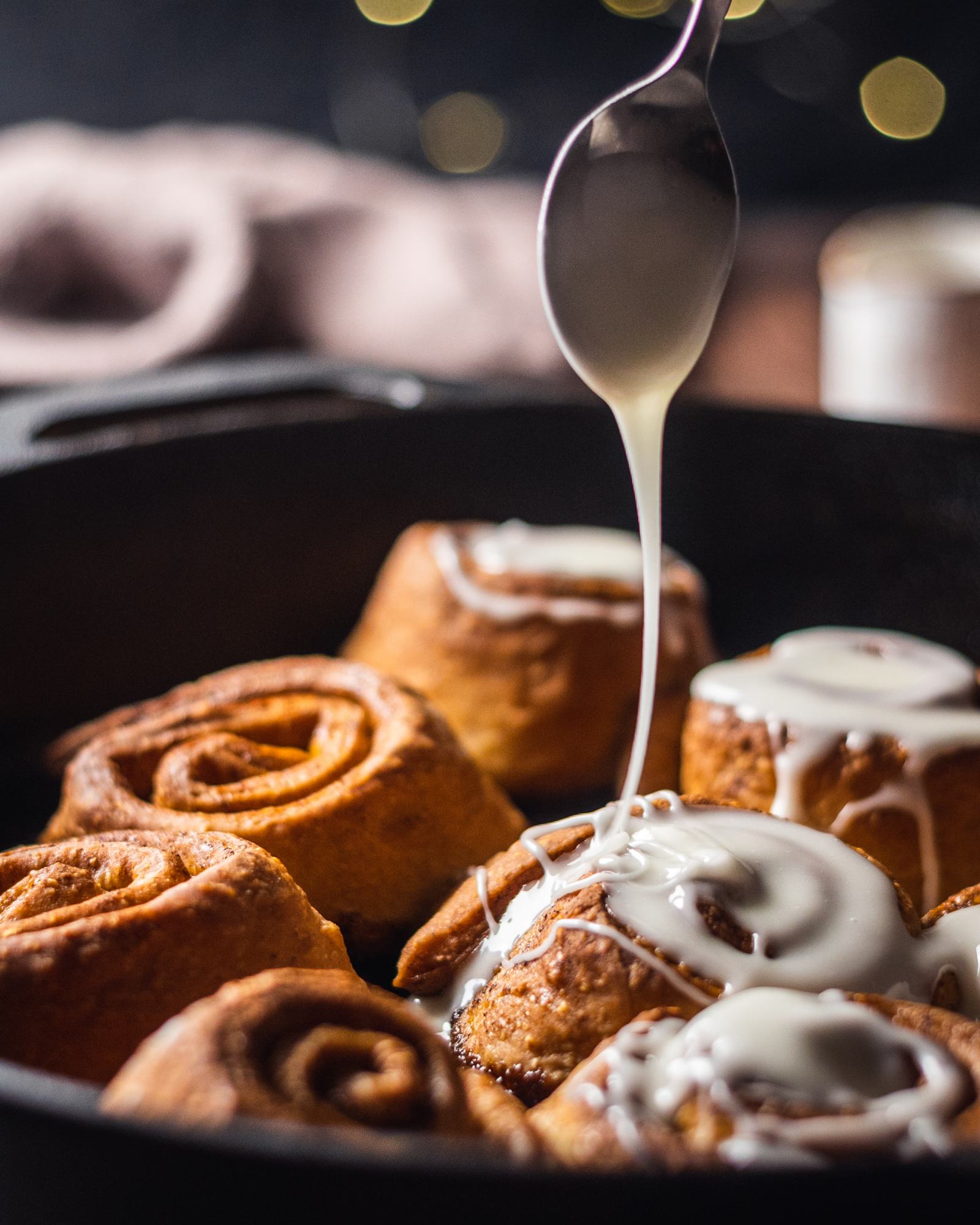 This recipe is:
100% vegan
super fluffy
easy to make
made with yeast
dairy-free
egg-free
nut-free
delicious
sweet
You might also enjoy these recipes:
📌 If you love Pinterest you can pin any of the images to your boards!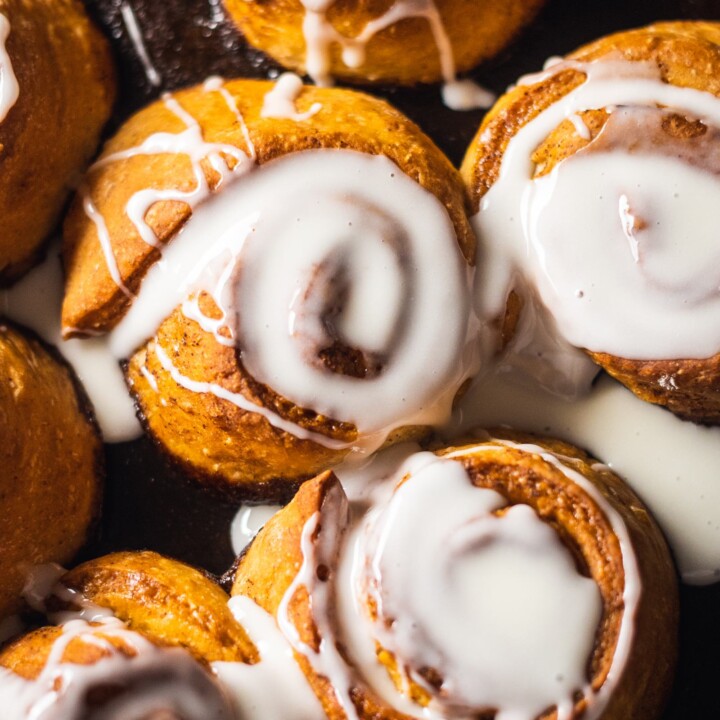 Vegan Cinnamon Rolls
The ultimate easy vegan cinnamon rolls recipe - wonderfully fluffy and made with only 6 simple ingredients. Simply delicious!
Ingredients
210

g

all-purpose flour

divided

170

ml

plant milk

divided

7

g

yeast

20

g

caster sugar

1

pinch

salt

20

ml

rapeseed oil

1

tsp

ground cinnamon
For the filling:
2

tsp

ground cinnamon

40

g

caster sugar

2-3

tbsp

water
For the glaze:
100

g

confectioner's sugar

a few drops of plant milk
Instructions
In a large bowl combine 210g plain flour, 7g yeast, 20g sugar, and a pinch of salt. In a large jug combine 80ml plant milk with 20ml rapeseed oil and set aside.

In a small saucepan whisk together 20g flour with 90ml plant milk over low heat. Continue to whisk until you get a thick sticky mixture. Remove from the heat immediately.

Add the liquids from the jug plus the sticky flour mixture to the dry ingredients and stir to combine with a wooden spoon. Once it becomes too sticky to mix, switch to your hands. Transfer to a floured surface and knead with your hands for 2-3 minutes, until you get a smooth dough.

Shape into a large ball and place the dough back into the lightly greased bowl. Cover with a damp tea towel and place in a warm place for 90 mins to rise.

Once the hour elapses, place the dough on a lightly floured surface and knead for 30 seconds. Use a rolling pin to gently roll the dough into a rectangular of about 1cm thickness.

In a small bowl, combine the caster sugar cinnamon, and a little water into a spreadable mix. Spread it across the dough rectangle and use a pizza cutter to cut the dough into 3-4cm thick strips. Gently use your fingers to roll up each strip into a cinnamon roll.

Place the rolls onto a lined baking tray 2 inches apart and cover with a damp teatowel once more. Allow them to rest for 30 minutes. After 20 minutes, preheat your oven to 180C.

Remove the towel and transfer your cinnamon rolls to a baking dish - I've used a greased cast-iron pan on this occasion, but you can also use a round cake tin or an oven dish of your choice. Place the rolls loosely next to each other with 1-2cm space between them.

Place the cinnamon rolls in the oven and bake until golden for about 12-15 minutes.

In the meantime whisk up your glaze by combining the icing sugar with a little plant milk - only add a tiny amount of liquid at a time and stop adding more, when the glaze is thick, but pourable.

Allow for your vegan cinnamon rolls to cool for a few minutes before drizzling your glaze on top and serve them warm or cold.
Notes
Keep your cinnamon rolls in an airtight container to keep them tasty in the fridge for a few days.

Alternatively, instead of rapeseed oil, you can also use melted extra virgin coconut oil.

If you want your buns to be nice and shiny, you can brush them with a vegan 'egg' wash made from 1 part maple syrup, 1 part plant milk.

For an extra crunch, add some chopped nuts to your glaze!
Try these other bakes too: