One of those days that you need quick and easy magic happening in the kitchen – perfect for this super easy pasta recipe.
All you need to do is cook pasta, blend the rest of the ingredients and combine – voila! Also perfect for a quick meal-prep on a Sunday evening or when you are simply craving some good old pasta.
Does anyone else love green pesto as much as myself? I believe during our teenage years, pasta & pesto was the go-to recipe for my best friend and me. We often quickly got these together whilst sitting over our homework (yes, we totally did all our homework, we were such good students ;))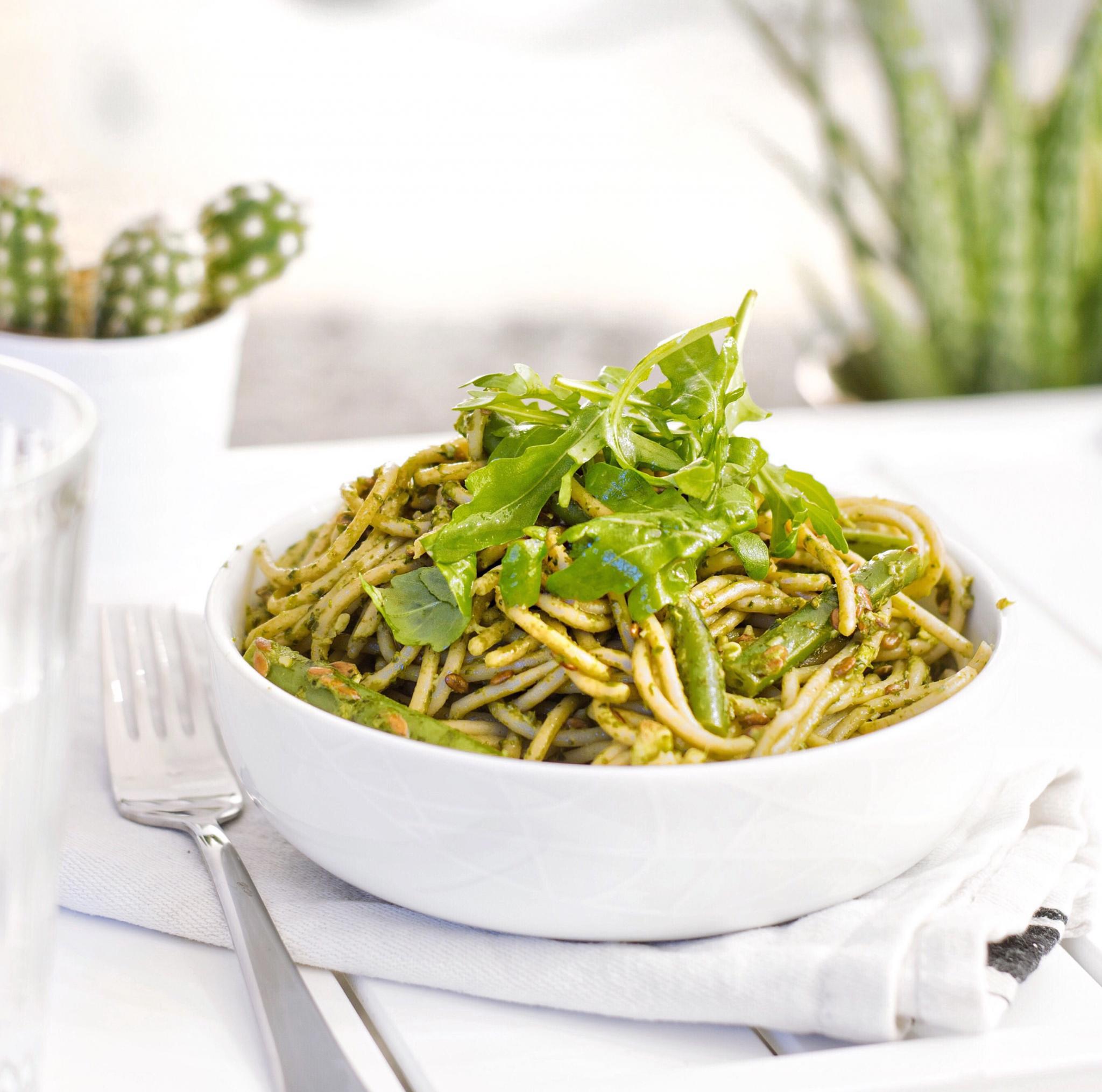 My pesto love has continued into adulthood and I have to admit I could never get away from that green pesto completely. So many other flavours of pesto do exist, for my number 1 will always be basil. #basilforpresident
Here my go-to vegan pesto recipe for these easy-peasy-pasta!
Ingredients:
200g Whole Wheat Spaghetti
100g Green Beans
handful of rocket salad
1 Tsp Balsamic Vinegar
1 Tsp Olive Oil
salt and black pepper, to taste
For the pesto:
30g Fresh Basil
30g Spinach
2 Tbsp Mixed Nuts (Walnuts and Pecans taste best here!)
Juice of 1/2 lemon
1 garlic clove
3 Tbsp Olive Oil
3 Tbsp linseeds
Method:
Cook your spaghetti according to the packaging instructions.
After 5 minutes in boiling water, add the green beans to the pasta water and cook them for a further 4-5 minutes.
Drain the water, but keep 1 cup of the pasta water (we will need this later!)
Add all pesto ingredients to a blender or small food processor and blend until a smooth paste develops.
Mix pasta, pesto and the pasta water well until everything is well combined.
Toss the rocket salad with a little Balsamic Vinegar and oil and use them as a topping for your pasta dish.
Add salt & pepper to taste.
Enjoy!
Do you have a super-delicious, favourite pesto recipe that you would like to share? Let me know in the comments below – always happy to try out new pesto combinations!
Are you already following my Instagram account? More recipes + photos are posted there on a regular basis, so don't miss out!