This delicious and fun treat is simply perfect for Easter! Created with half of a chocolate Easter egg and a rich, creamy no-bake cheesecake filling, this Easter Egg Cheesecake is truly dreamy and you simply have to try it this year!
This recipe combines two of my favorite things, not just around the Easter season: chocolate and cheesecake!
This Recipe is:
100% vegan
naturally gluten-free
easy to make
simply divine
a delicious treat for Easter
a great gift for your loved ones
simple to prepare ahead of time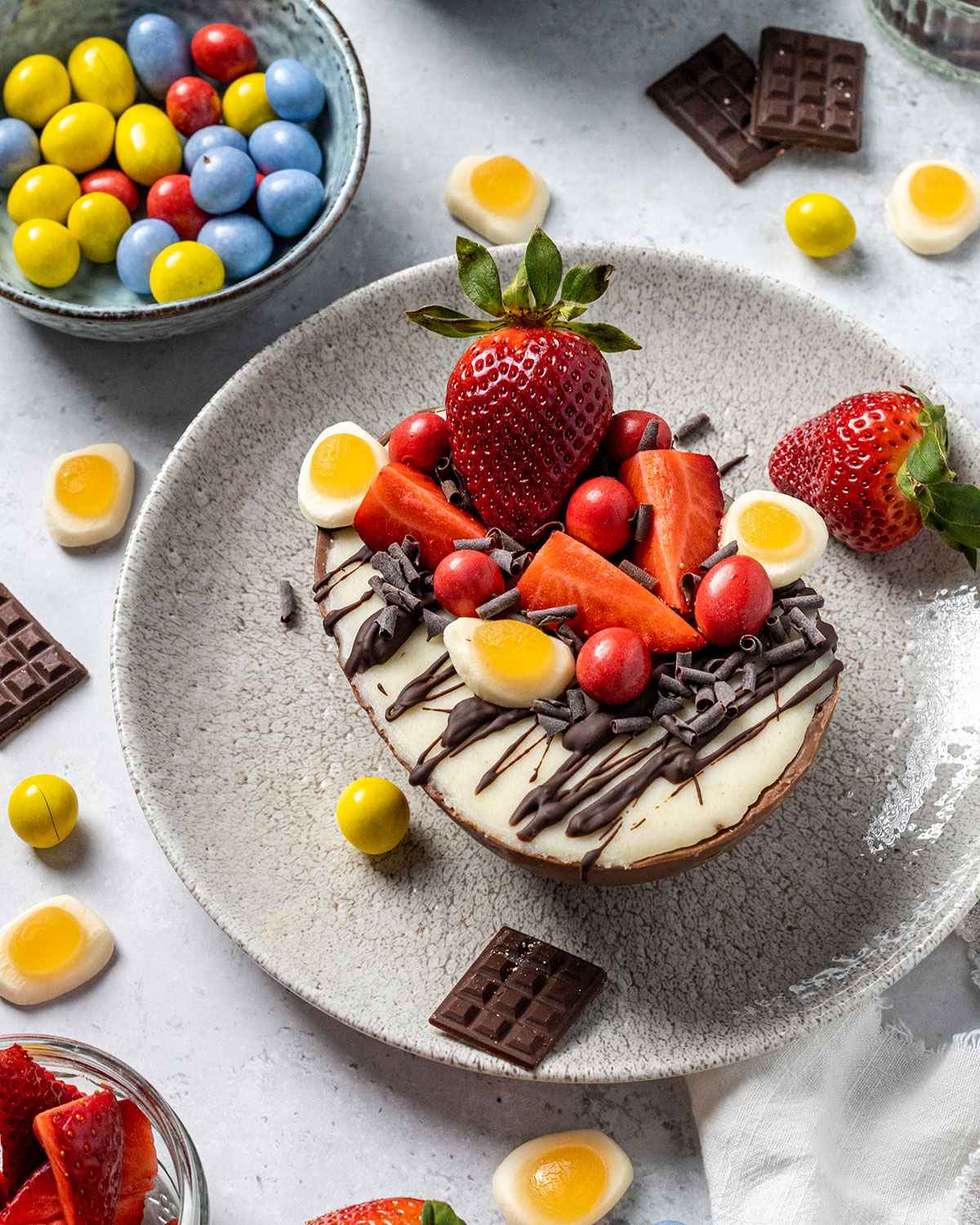 Why this recipe works
If you're looking for the perfect Easter treat to gift to a loved one, you've come to the right place!
This Easter Egg Cheesecake brings the perfect indulgence for the Easter holidays and it's easy to make at home from scratch. It's both delicious and exciting, which is the best combo for a little gift to give to friends and family!
Of course, you're more than welcome to create this deliciousness to enjoy yourself, all I can say is: it's worth it!
Ingredients and Notes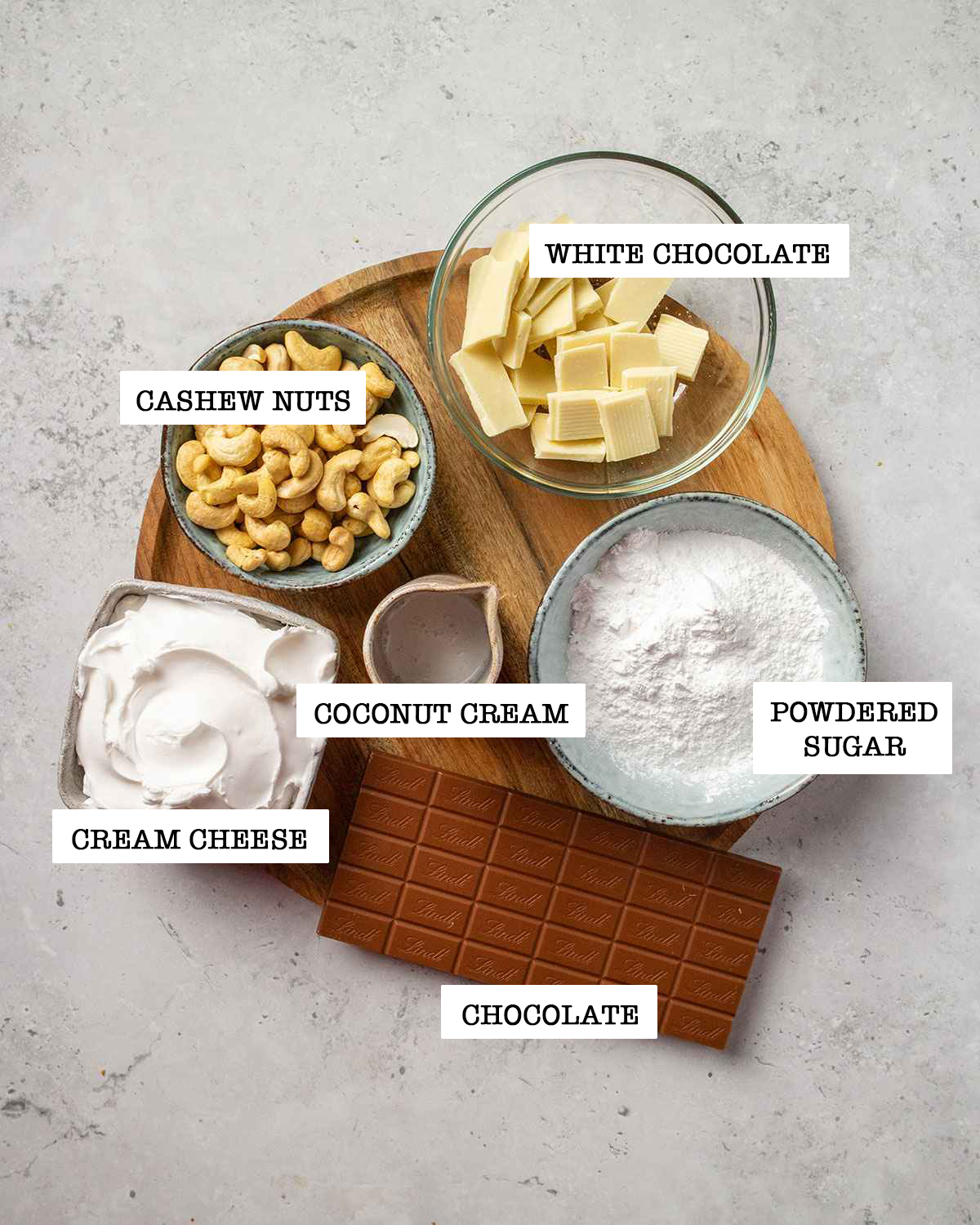 There are three parts to this recipe - the chocolate egg, the cheesecake filling and optional toppings. Here's what you need to make your own cheesecake filled Easter egg at home:
smooth chocolate - For this recipe I've made my own chocolate Easter egg from vegan chocolate, but you can alternatively use a store-bought chocolate Easter egg and gently slice it in half with a hot knife. Simply run it under hot water or hold it over an open flame before slicing carefully.
raw cashew nuts - these will take the creaminess of the cheesecake to the next level! In this recipe we're soaking the nuts to soften them - this will ensure they blend smoothly into our cheesecake mix, making it super rich and creamy. If you don't want to soak your cashews, read the recipe tips below for a quick hack!
white chocolate - I simply love adding white chocolate to cheesecake, it helps firm up the cheesecake in the fridge without using cornstarch or similar thickeners - and also adds a delicious sweetness to the recipe.
cream cheese - it wouldn't be cheesecake without this addition! Use an unflavored version with low-sodium. I used my favorite Violife cream cheese for this recipe.
powdered sugar - Also called 'icing sugar' in the UK. We use this to sweeten the cheesecake mix. I have found that powdered sugar mixes into the cheesecake best, but you can use alternative sugar options as well, simply dissolve it in the coconut cream before adding it to the recipe.
coconut cream - For a delicious creaminess!
Equipment
You don't need any fancy equipment for making this recipe, which makes it so great! It's easily adaptable to the equipment you have available in your kitchen. Here's a list of equipment that I've used:
double boiler or a heatproof bowl over a water-filled saucepan - this is needed if you make your own chocolate egg. If you decide to use a store-bought chocolate Easter egg, then skip this.
an Easter egg mould - this is just needed if you make your own chocolate egg. I used this mould from Amazon. This recipe makes enough cheesecake to fill 2 Easter egg halves of this size.
Highspeed blender - for a smooth cheesecake mix, we're blending all ingredients on a high speed, creating a deliciously creamy filling for our Easter egg cheesecake.
For the decoration (optional):
Decorating your Easter Egg Cheesecake is completely optional, but here are a few beautiful and tasty ideas:
Mini Eggs
Chocolate eggs
Chocolate cream eggs
Melted chocolate
Fresh berries, e.g. strawberries or raspberries
Edible flowers
Crushed Nuts
Chocolate bunnies
Crunchy granola
Melted nut butter
Chocolate ganache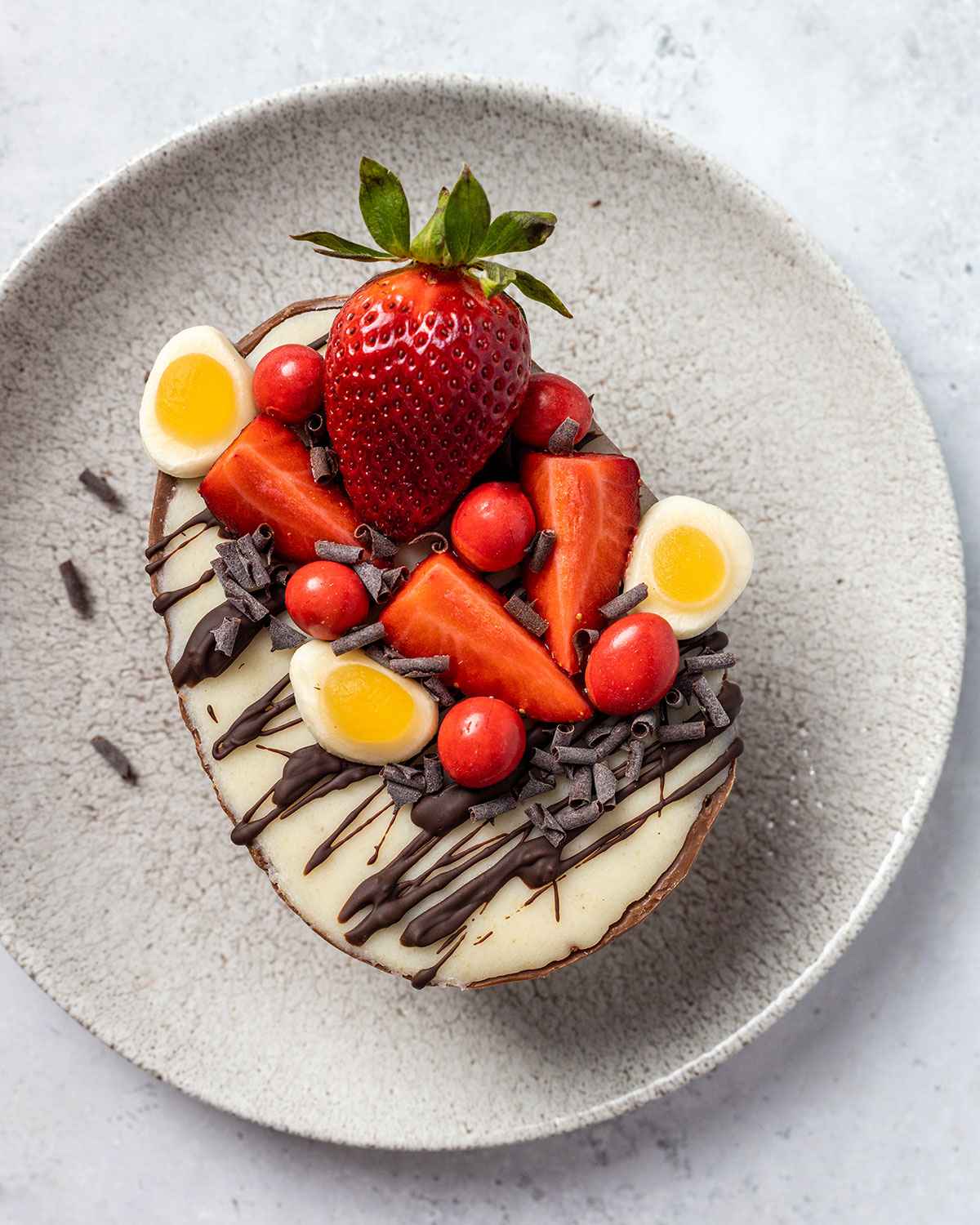 Instructions (Step-by-Step)
To make these Easter Egg Cheesecakes, simply follow a few simple steps.
Step 1: Create the chocolate egg
If you are using a store-bought chocolate egg, carefully cut it in halves and skip ahead to step 2.
For a homemade chocolate Easter egg, simply place the smooth chocolate into a double boiler or a heatproof bowl over a water-filled saucepan. Ensure the bowl does not touch the water as you otherwise risk burning your chocolate.
Heat the water in the saucepan over low heat and allow for the chocolate to slowly melt. It's important to not rush this step to create a smooth chocolate.
Once melted, carefully coat your Easter egg moulds with the back of a spoon and place the mould upside down on a bowl or parchment in the fridge to remove any excess chocolate. Making the chocolate egg in this way will ensure the walls of the Easter egg will be thick and sturdy. The first coat will be a thin layer.
Repeat for 5-6 times, placing the egg moulds into the fridge upside down between each coat. Melt any excess chocolate again for the next coat and continue until the chocolate has been used up.
Step 2: Create the cheesecake mix
For the creamy cheesecake filling, the cashew nuts have to be softened. This ensures they blend in nicely. To soften them, simply soak your cashews in water for a minimum of 4-6 hours or overnight.
If you are soaking your cashews ahead of time, rinse and replace the water daily and you can store the soaking nuts in the fridge for up to 3 days.
How to quickly soak your cashews for a recipe
There's a simple hack if you're in a rush to create your cheesecake or simply don't want to wait 4-6 hours for your cashew nuts to soak: Simply boil them in water for 20-30 minutes or until softened, then rinse and cool and they're soft and ready to use for your recipe.
Once ready to use, simply drain and rinse the cashews.
In the meantime, melt your vegan white chocolate in a double boiler or in a heatproof bowl over a water-filled saucepan.
Transfer the nuts to a highspeed blender alongside the melte, melted white chocolate, cream cheese, powdered sugar and coconut cream. Start blending on a low speed, steadily increasing. Blend your cheesecake mix for about 10 minutes or until smooth, giving your blender a quick break every minute and scraping down the sides with a spatula.
You should end up with a smooth cheesecake mix. Blending times may vary depending on your blender.
Pour the cheesecake mix into the chocolate Easter egg halves and place into the fridge for 1 hour to set.
Step 3: Decorate your Easter Egg
Laslty: time to decorate! You can get all creative and go all out by beautifully decorating your Easter Egg Cheesecake with more chocolate, Easter treats, fresh fruit nuts and Co.
On this occasion, I have used melted dark chocolate, fresh strawberries, vegan mini easter eggs, and Easter candy.
Storage
Store the filled Easter egg in the fridge for up to 3 days or in the freezer for up to 3 months.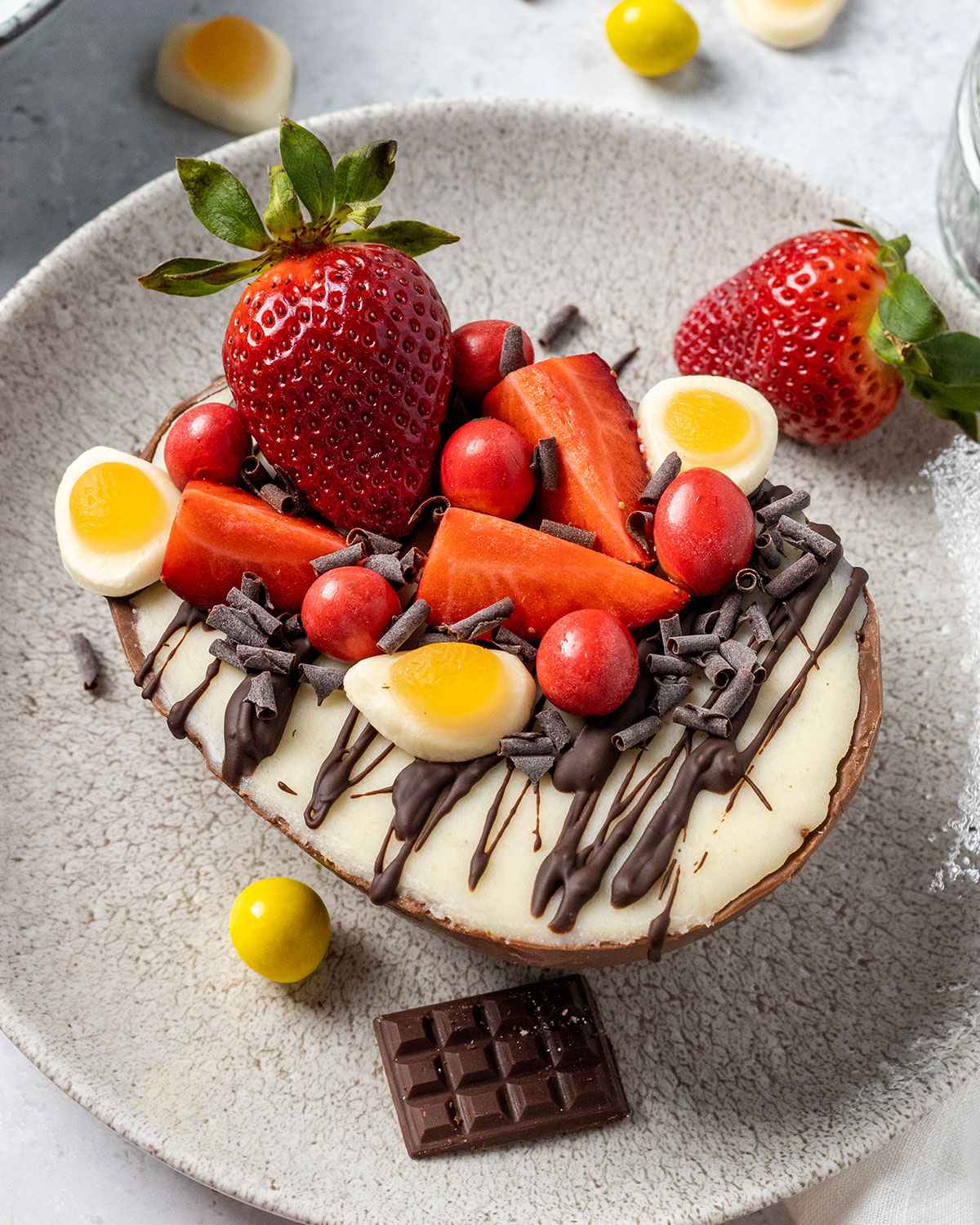 What to Do with Your Leftovers
If you have any leftover ingredients from this recipe, here are a few tips and tricks to use them in your next epic creation!
Ingredient 1 -
Ingredient 2 -
Ingredient 3 -
If you've tried and loved this recipe, I would love for you to leave a star rating and short review at the bottom of this recipe post ❤️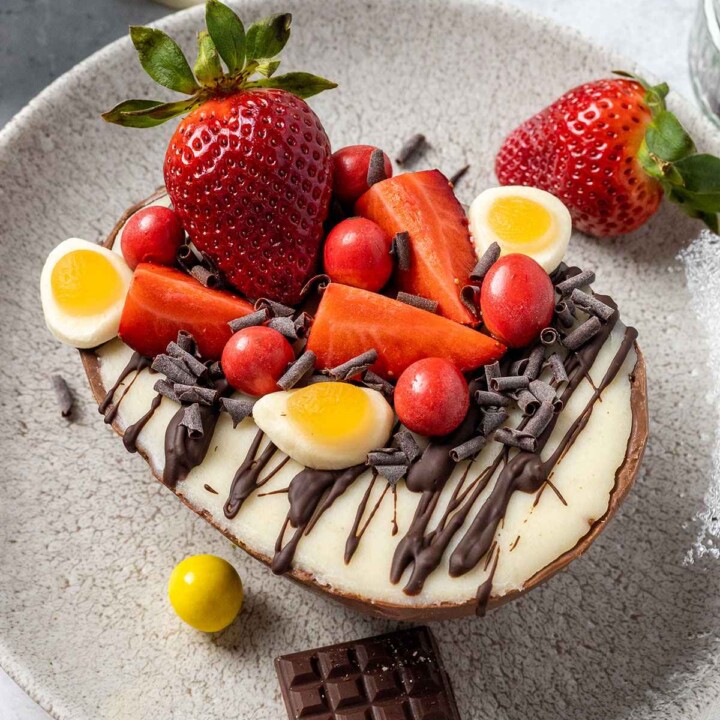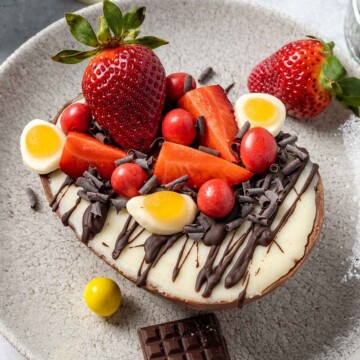 Easter Egg Cheesecake
A truly egg-citing treat for Easter! This Easter Egg Cheesecake is created with a chocolate Easter egg shell and filled with a delicious, smooth and creamy no-bake cheesecake that is simply too good to be true!
Equipment
1 double boiler or heatproof bowl over a saucepan

1 Easter egg mould

(skip if you're using a store-bought Easter egg)

1 highspeed blender
Ingredients
160

g

smooth vegan chocolate
For the cheesecake filling:
115

g

raw cashew nuts

soaked for 4-6 hours

110

g

white chocolate

melted

250

g

cream cheese

unflavored

75

g

powdered sugar

50

g

coconut cream
For the decoration (optional)
mini eggs

melted chocolate

fresh strawberries

Easter candy

chocolate sprinkles
Instructions
Create the chocolate Easter egg
Melt the chocolate in a heatproof boil over simmering water, then coat the chocolate mold in 5-6 layers, resting it upside down in the fridge between each coat.*
Prepare the cheesecake filling
Drain and rinse the soaked cashew nuts and melt your white chocolate, then transfer both to a blender alongside the cream cheese, powdered sugar and coconut cream.

Process at low speed, gradually increasing, and give your blender a break to scrape down the sides regularly. Blend until smooth and creamy.

Transfer the cheesecake filling into the chocolatser egg mold.
Decorate the filled Easter egg
Get creative and decorate your cheesecake filled Easter egg to your liking with more chocolate, fresh fruit and Co!
Notes
*if you are using a store-bought Easter egg, carefully slice it in half and move onto step 2.
**Store the Easter egg cheesecake in the fridge for up to 3 days, or in the freezer for up to 3 months. 
© Romy London / Romina Callwitz | All images and content are copyright protected. Please do not use my images and content without prior permission. If you wish to re-publish this recipe, please get in touch via email. Thank you so much for supporting romylondonuk.com!
*Disclosure: This page may contain affiliate links that earn me a small commission, at no additional cost to you. You can find more information in my Privacy Policy.