These crispy baked falafels are the ultimate make-ahead savoury snack! Delicious in combination with the creamy and tangy garlic tahini dip.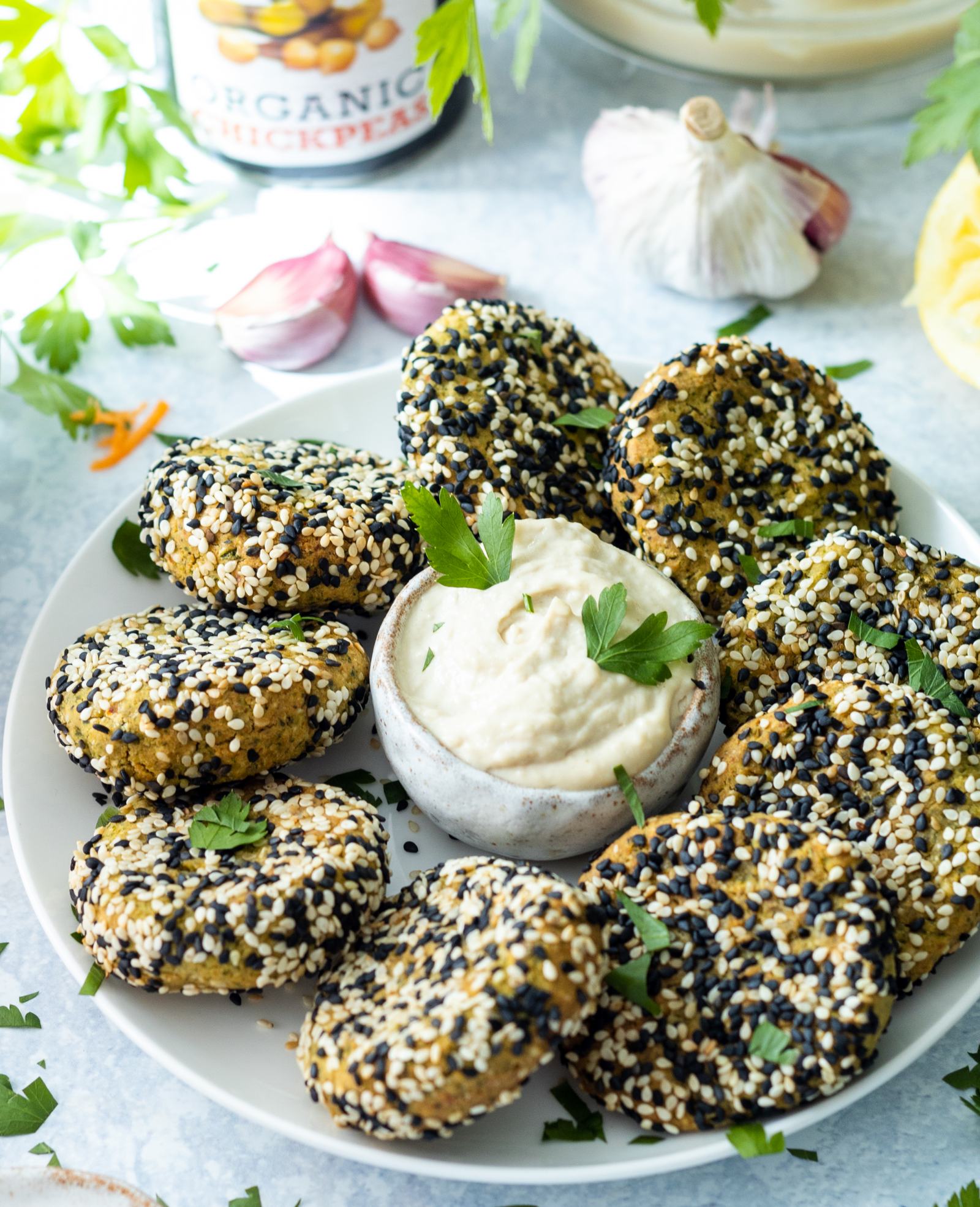 What you need to make this recipe
Ingredients
tinned chickpeas: go with the organic, unsalted version and drain before using.
onion: the yellow kind are best!
garlic
afresh coriander
sesame seeds
salt
black pepper
dried chili flakes
ground cumin
chickpea flour
olive oil
sesame seeds for the crispy coating (optional)
For the Garlic Tahini Dip
tahini
lemon juice
garlic
maple syrup
water
Equipment
food processor
mixing bowl
oven
How to make baked falafels
For this particular baked falafel recipe, you first need to create your falafel batter. To do so, place the drained and rinsed chickpeas into a food processor alongside the onion and garlic. Blend until you get a sticky, but grainy texture, then add the fresh coriander, sesame seeds, salt, pepper, dried chili flakes, cumin, and olive oil. Process until well combined, but not entirely smooth.
Next, slowly drizzle in the chickpea flour whilst pulsing the mixture. You might have to slightly adjust the amount of chickpea flour - based on how much moisture was left in your chickpeas, so please adjust until your mixture is still wet and sticky, but firm enough to shape and roll into individual balls.
To portion size, take a small handful of the falafel batter and roll it into a ball between the palms of your hands. Repeat until the batter is used up, then roll the falafels in sesame seeds to evenly coat them. You can leave your falafels in a round shape or flatten them into discs (as I've done, see the images).
Bake these easy falafels in a preheated oven at 180C for 20 minutes or until golden and allow for them to cool down for 10 minutes before enjoying them. Store them in an airtight container in the fridge for up to 3 days and enjoy hot or cold.
How to make garlic tahini dip
The garlic tahini dip is delicious served as a drizzle or dip alongside your vegan baked falafels! It's super smooth and creamy with a natural tang from the fresh garlic used in the recipe, If you're sensitive to raw garlic, please ensure to sauté the garlic in a little oil before adding it to the dip - or alternatively use garlic powder instead of fresh garlic.
Blend the garlic tahini dip ingredients in a small blender or food processor to combine: tahini, fresh garlic, lemon juice, maple syrup, and a little water until you get the desired texture. If you're planning to drizzle the dip, it's best to aim for a thinner, runnier texture and add more water. Feel free to adjust to your own liking.
Alternatively, you can also use a stick blender and a tall jug to mix the dip together.
You can also refrigerate the dip after making it - simply keep it in an airtight container in the fridge for up to 3 days. To enjoy the dip, allow it to sit at room temperature for 30 minutes and give it a good stir before dipping.
Crispy baked falafels - frequently asked questions
Do I need to cook the onion and garlic before using them?
It's not mandatory and the falafels turn out delicious when using uncooked onion and garlic in the ingredients - however, if you're sensitive to raw onion and garlic I would recommend to sauté them in a little oil prior to adding them to the falafel mix and also the dip.
Can I make falafels with a food processor?
In theory: yes! The food processor helps break down the onion, garlic, and especially the chickpeas to give you a sticky falafel batter. You can definitely make these crispy baked falafels without a blender or food processor, but you would need to finely chop the onion and garlic beforehand as well as thoroughly smash the chickpeas with the back of a fork before combining with the rest of the falafel ingredients.
This recipe is:
100% vegan
naturally gluten-free
deliciously crispy
wonderful for dipping
the perfect vegan snack
nut-free
dairy-free
egg-free
easy to make
great to store in the fridge
a perfect after-school snack!
This crispy falafel recipe has been included in the most recent article "After School Snacks with Twinkl" by the international educational publisher, Twinkl - you can read more and find more delicious after school snack here.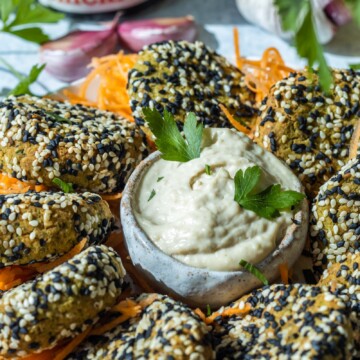 Crispy Baked Falafels
These crispy baked falafels are the ultimate make-ahead savoury snack for your work week! They are delicious in combination with the tangy garlic tahini dip and easy to make in advance and store in the fridge.
Equipment
1 food processor

1 lined baking tray
Ingredients
1

7-oz

can of cooked chickpeas

drained

1/2

brown onion

4

garlic cloves

cooked if needed

1

handful

fresh coriander

finaly chopped

2

tbsp

sesame seeds

1/2

tsp

salt

1/2

tsp

black pepper

1/4

tsp

red pepper flakes

1

tsp

ground cumin

8

tbsp

chickpea flour

2

tbsp

olive oil

3-4

tbsp

sesame seeds

for the coating
For the garlic tahini dip:
110

g

tahini

1

tbsp

lemon juice

2

garlic cloves

crushed or grated

1

tsp

maple syrup

3-4

tbsp

water
Instructions
Place the chickpeas into a food processor along with the onion and the garlic. Blend until texture is grainy, then add the coriander, sesame seeds, salt, pepper, dried chilli flakes, cumin and olive oil. Process until combined.

Slowly add the chickpea flour to the mixture whilst processing. If the mixture is still very wet then keep adding chickpea flour until its firm enough roll into a ball.

Take a small handful of the mixture and roll into roughly 5 x 5 cm balls. Roll them in the sesame seeds to coat evenly, then place the balls onto a lined baking tray.

Bake the falafels in the oven for 20mins at 180°C.

In a small bowl, whisk up the ingredients for the garlic tahini sauce and serve alongside your baked falafels.
Looking for some more delicious vegan snacks? Look no further, here are a few of my personal favourites:
Vegan Cheese and Onion Kale Chips