Just because I am on vegan keto again, doesn't mean I can't share a non-keto recipe with you, right? 😉
I have literally got such a back up of recipes just piling up waiting to be posted on the blog - I promise I'll do my best to try and keep up with it!
This recipe I originally created for a feature in Cook Vegan Magazine (now renamed to Plantbased Magazine), alongside two other microwave cake recipes that I might share with you later.
Microwave brownies and cakes are perfect for satisfying that cake-y snack craving, without having to spend hours in the kitchen preparing. Oh and also all that mess that suddenly appears in the kitchen when making a cake (at least this is what happens in my kitchen) - totally avoided!
As mentioned, this recipe was created a few weeks back... when my microwave was still in working order. Unfortunately it has given up on life since, but tbh I can't remember a time I used it this year apart from melting butter for other recipes and these mug cakes. Poor Nick though... the microwave was his best friend for heating pre-cooked meals, but he's gotta do without now.
I have decided not to buy a new microwave anymore, simply as we don't have space for in in the kitchen itself, so it was always located on the cabinet in our kitchen/living space and always in my eye as it didn't quite fit with the decoration of the room. So yeah - unfortunately I will be missing out on these mug brownies from now on, but for your own benefit, find the recipe below 😉
Spoiler Alert: These tasted amazing!
Happy microwaving!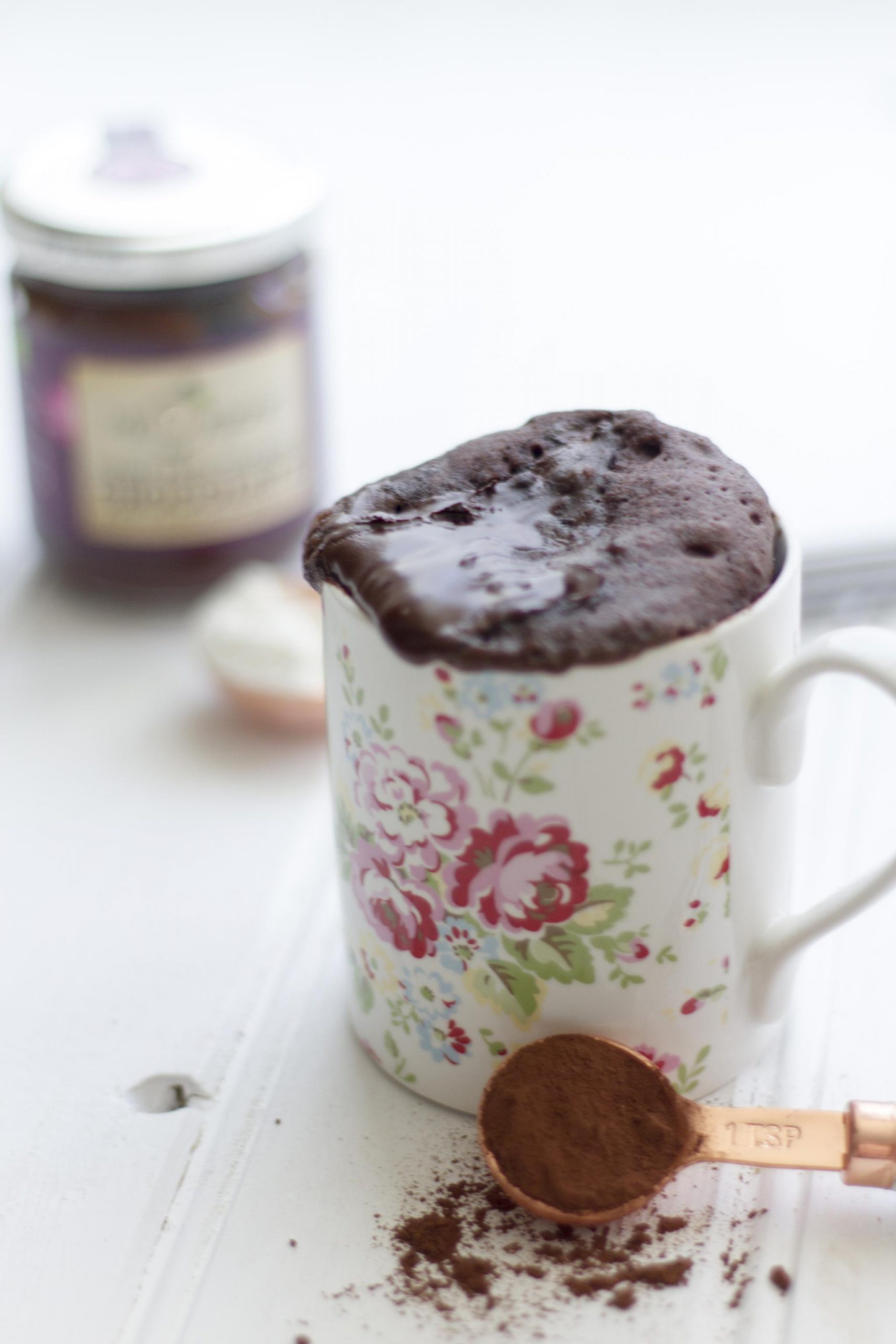 Chocolate Mug Brownie
Ingredients:
3 Tbsp plain flour
¼ tsp baking powder
1 tsp cacao powder
¼ tsp cinnamon
1 ½ Tbsp organic rapeseed oil
2 Tbsp linseeds
1-2 Tbsp soy milk
Your favourite vegan chocolate spread for the topping (I used Mr Organic!)
Method:
In a mug combine all dry ingredients: flour, baking powder, cinnamon, cacao powder and linseeds.
Combine the rapeseed oil and 1 Tbsp soy milk in a separate mug, then slowly mix into the dry ingredients. If the mixture becomes too crumbly, simply add up to 1 additional Tbsp of soy milk.
Add a teaspoon of your favourite vegan chocolate spread onto the top before microwaving for 1 - 1 ½ minutes.