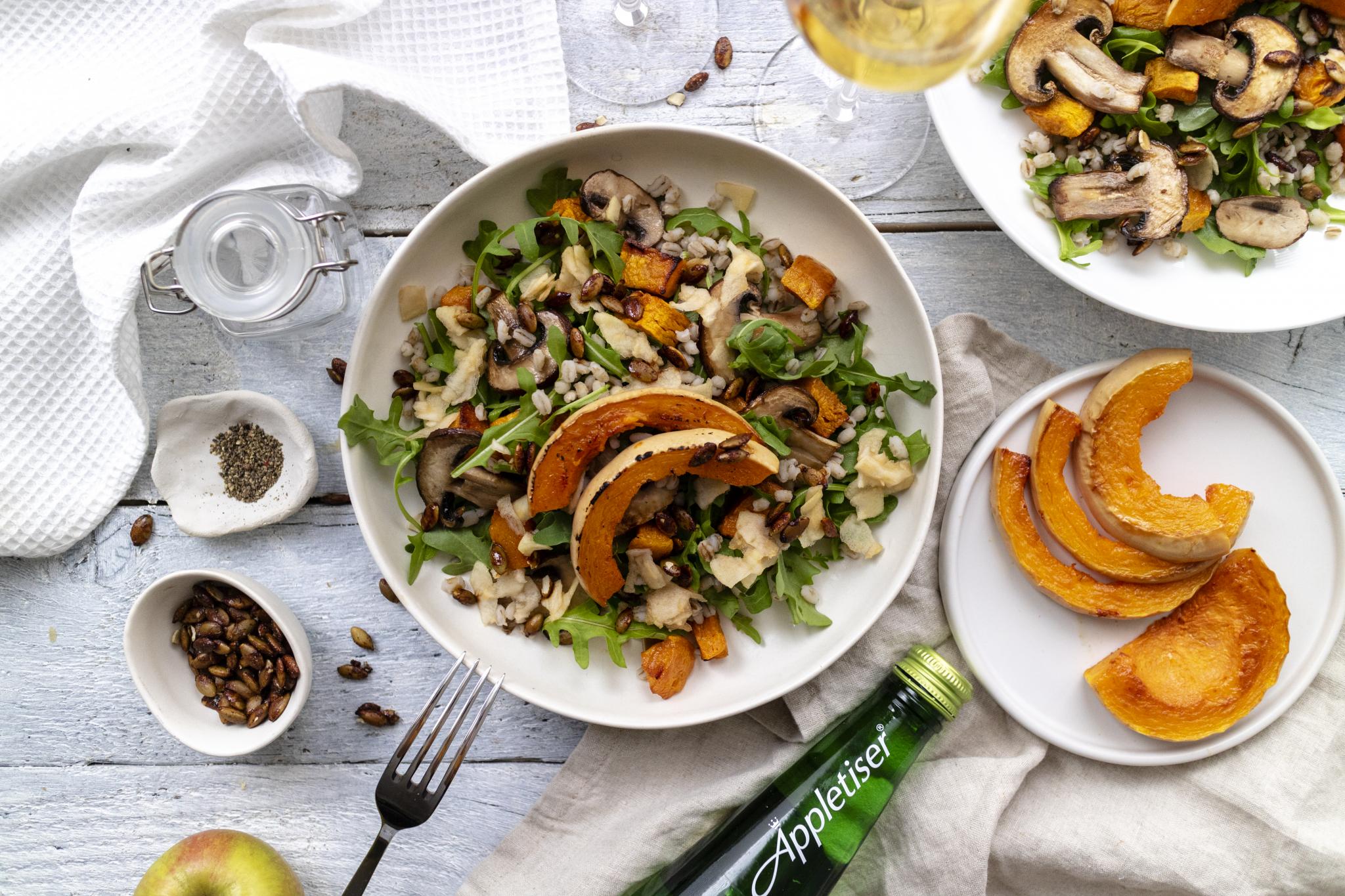 Dear October,
This is a love letter to you and it's probably very obvious going through the next lines. I'm sorry that I despised you as a child and only gave all my love to summer, but I am glad that I truly appreciate now how wonderful and magical you really are.
If you haven't figured yet: I'm all over autumn (or 'fall' if you're from the US ;)). Shortening days aside – autumn gives me a feeling of settling down & enjoying the calmer times after a busy & tense summer. And this year I can relate to that more than ever after working 2 full time jobs throughout the summer (read more about that here!). So, autumn-time, I've been looking forward to you, you're much valued & needed right now.
Fresh air, colourful leaves dancing in the wind, beautiful sunsets over the colour-kissed trees – a truly magical time of the year and I'm honestly stocked to have a bike this year and can't wait to visit Richmond Park on it in the autumn sun.
Oh, and have I mentioned Halloween yet?! My favourite holiday – just after Christmas of course. I love the whole spookiness about the end of October, all the horror movie classics on TV and dressing up in awesome costumes, which is wonderfully creative and I'm all over it with the motto 'all or nothing'. If you've worked with me in the past, you might probably remember me entering the office as Avatar in 2014 (after 5 hours of make up!) or Freddy Krueger in 2015 – complete with scarred face and bald head (not to mention that I got up at 4am just to do the make up before work!)
I somehow also feel the need to re-watch all Harry Potter movies in autumn – I think it must be because the movies used to come out in the cinema in autumn and this time of year simply reminds me a lot of going to see them as a teen in the cinema.
Did I promise too much when I said that autumn is a wonderful time? I don't think so 😉
One thing I'm super excited about also, is all the seasonal food such as pumpkin, mushroom and apple (which you probably guess from the title, will be used in this recipe) I have to admit I go all out on the pumpkin recipes every year and I guess that's absolutely fine – I'm a millennial after all and I think that explains it all 😉
It's no different this year and with just recently leaving full time work, my creative hat is pretty much on constantly and I have so many plans for seasonal recipes to test out. As I've only just gotten back from Singapore where it was 30+ degrees I was still feeling a little 'in-between-y' and felt the need to combine a refreshingly cold salad with autumnal foods – and that, in a nutshell, is how this recipe came about.
In my eyes, it's turned out to be the perfect transition to say goodbye to summer and prepare you for all the autumn flavours and it perfectly pairs with a refreshingly bubbly Appletiser (which I love to add at any time of the year, let's be honest!). Also: when having Appletiser in these beautiful champagne glasses I recently purchased, it really makes every meal feel special 😉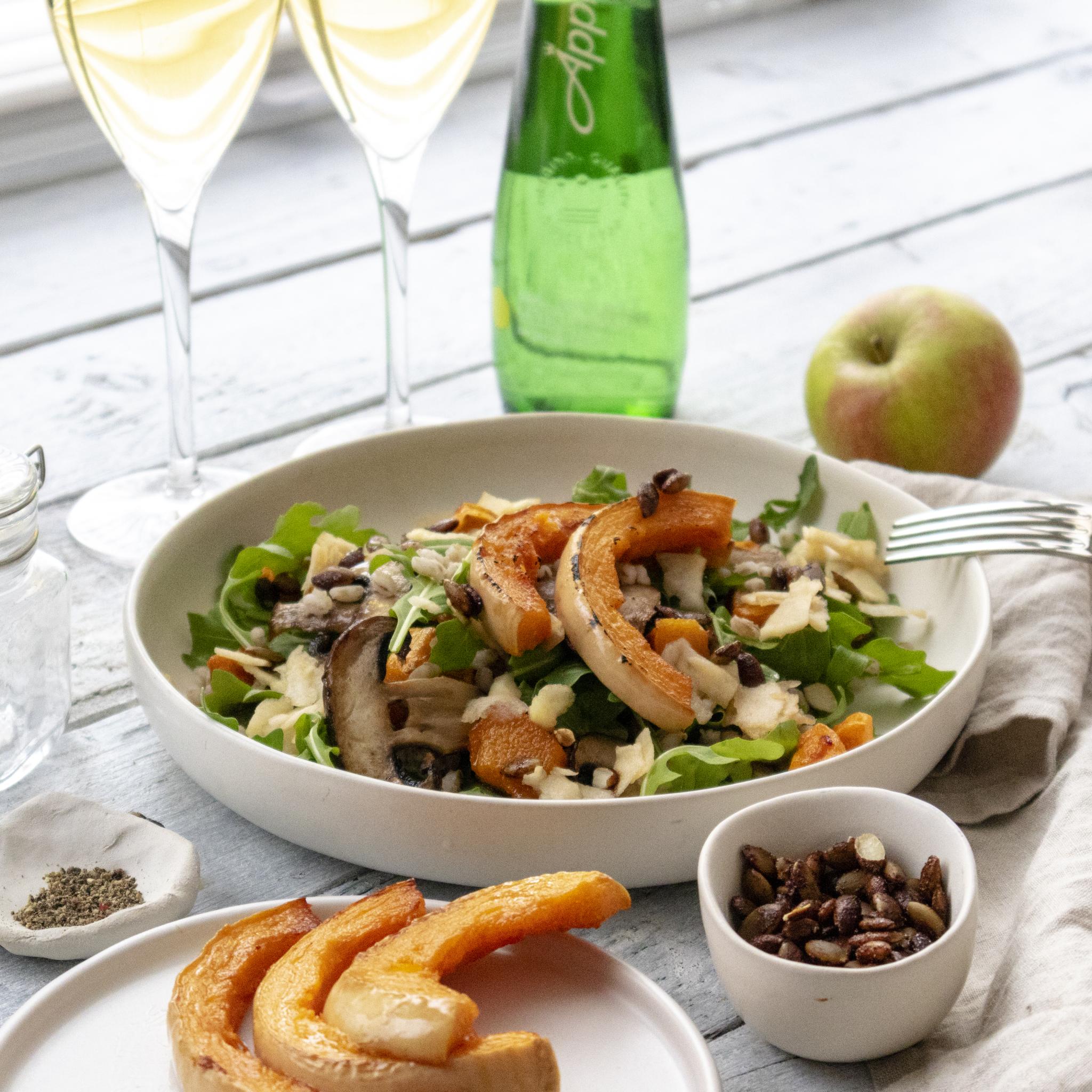 Ingredients (makes 2-3 portions)
– 1 medium sized pumpkin (substitute with a Butternut Squash if you don't have access to pumpkins)
– 2 Tbsp Extra Virgin Olive Oil
– 2 Handfuls of rocket salad, washed and drained
– 1 cup of pearl barley
– 1/2 Medium sized apple
– 200g Brown Mushrooms
– 3 Tbsp Pumpkin Seeds
– 1 Tbsp Tamari Soy Sauce
– Salt & pepper to taste
– 1 Tbsp Walnut Oil
– 1 Tbsp Apple Cider Vinegar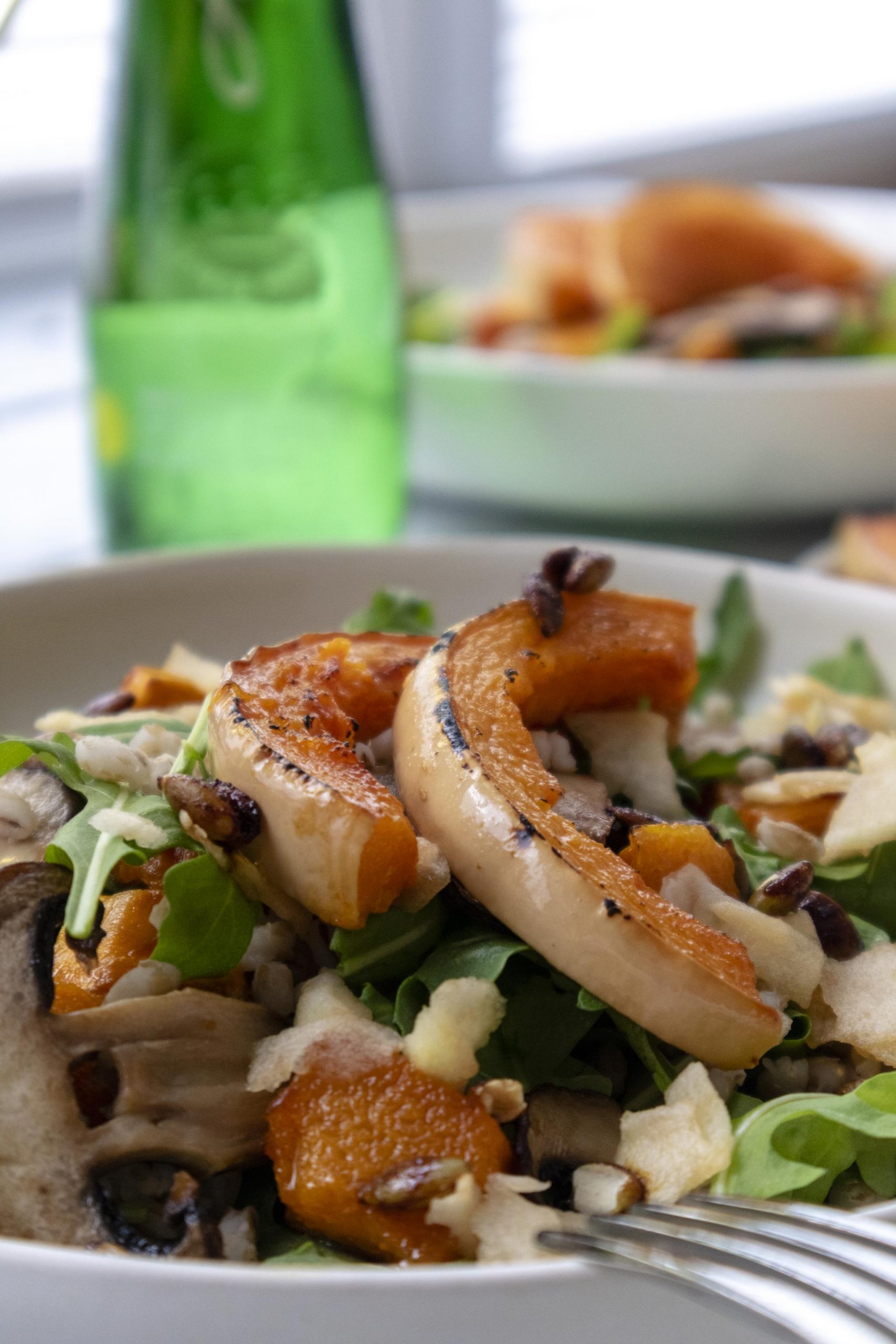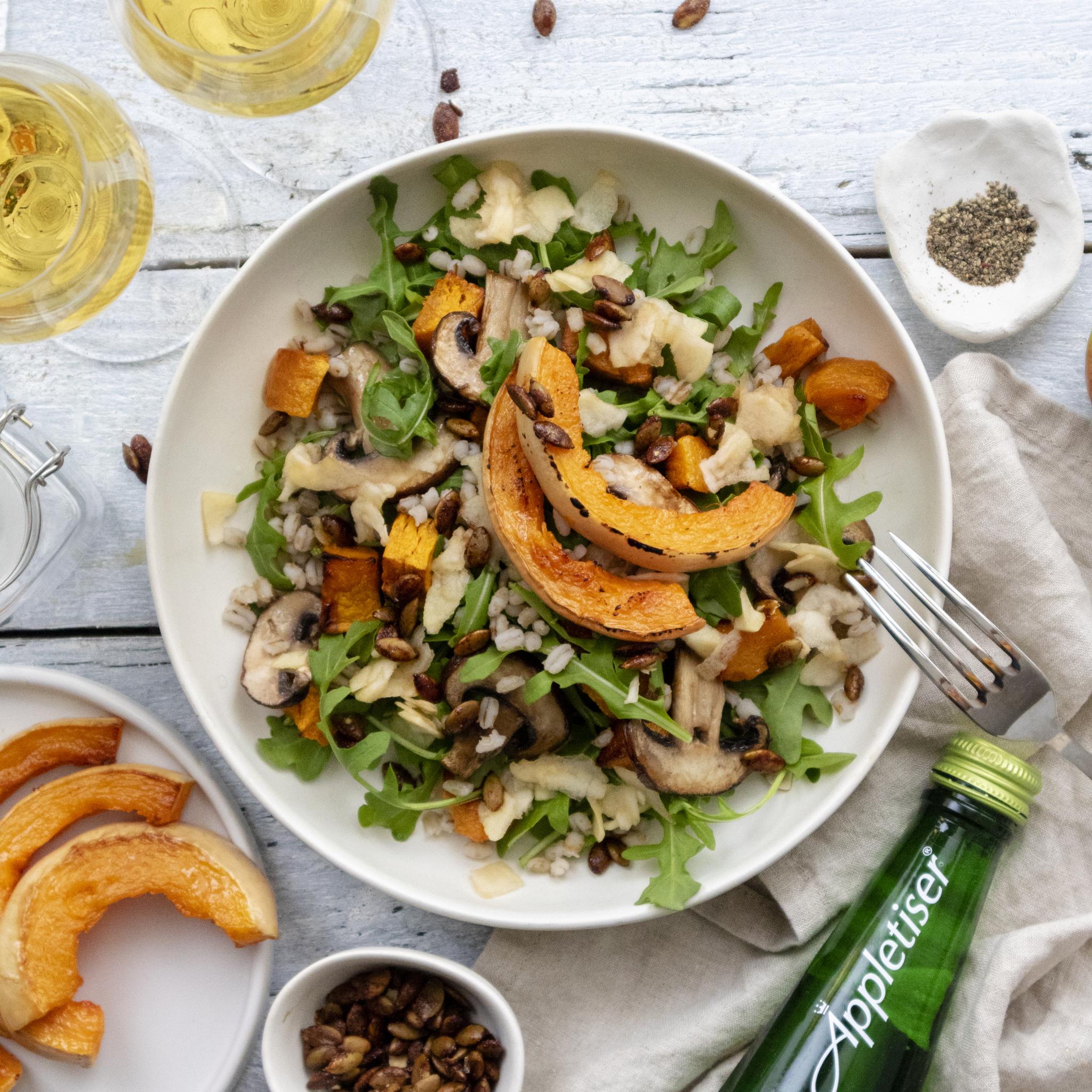 Method
1. Preheat your oven to 220 degrees Celsius.
2. Start by preparing your pumpkin by washing it, cut it open in half and remove the seeds. Slice off 4 thumb-size pieces of pumpkin including the skin and set them aside. Peel the rest of the pumpkin and cut it into bitesize pieces. Transfer the pieces to an ovenproof dish, drizzle with olive oil & sprinkle with a little salt, then roast in the oven for about 20-25 minutes.
3. Whilst the pumpkin is in the oven, wash the pearl barley and add it to a saucepan with about 1l of boiling water. Boil on medium-high heat for about 15-20 minutes. The barley will expand in size during this process and soak up the cooking water – make sure to stay close by and check on the barley evert 2-3 minutes and add more water if needed. Once the Barley has doubled in size and is cooked soft, drain and set aside.
4. Wash & slice the mushrooms and fry them in a large pan using a drizzle of olive oil. Make sure to only fry them for about 1-2 minutes on each side, so they are done, but don't release too many juices or lose too much size. Season to taste with salt & pepper, then set aside.
5. When the mushrooms are done, remove them from the pan and fry the 4 thumb-size slices of pumpkin in the pan with olive oil and a little salt until lightly browning and soft. Set the pumpkin aside.
6. In a small jar, combine the pumpkin seeds and the tamari, then roast them in the hot oven for about 5 minutes.
7. To prepare the dressing, simply combine 1 Tbsp of walnut oil and 1 Tbsp of Apple Cider Vinegar in a small glass and briefly whisk it up.
8. Now it's time to assemble! Add a handful of rocket salad to each plate, then top with the barley, mushrooms and roasted pumpkin chunks. Shred 1/4 of an apple on to each plate, add the fried pumpkin and pour over the walnut-vinegar dressing. Finish off the dish by sprinkling the roasted pumpkin seeds over the top.
9. Pour yourself a cold Appletiser and enjoy!
Now all that's missing is a blanket & a good movie! Which Halloween movies are your favourites? Looking to watch my way around a lot of Halloween classics this year so hit me up with your recommendations!