Baked Vegan Doughnuts with Vegan Buttermilk - Soft and incredibly easy to make! The base is ready within just a few minutes.
Baked Vegan Doughnuts
Doughnuts are always a good option when it comes to a delicious vegan snack - and this Baked Vegan Doughnuts with Vegan Buttermilk recipe is a real treat!
What you'll need to make Vegan Buttermilk Doughnuts
Ingredients
Vegan Buttermilk: The buttermilk for this recipe is very easily created from soy milk (or your favourite plant milk) and apple cider vinegar. See the simple steps for the vegan buttermilk below.
Buckwheat flour: For this recipe, I've decided to keep it gluten-free. Buckwheat flour is one of my favourite gluten-free flours as it holds together nicely and it's neutral in flavour, making it the perfect gluten free flour for a whole range of recipes. I usually get my buckwheat flour in bulk from BuyWholeFoodsOnline.
Brown sugar: you know I love cooking without refined sugar, but these doughnuts are a treat, not an everyday recipe and they simply taste the best with the addition of a little sugar. I'm using brown sugar for the recipe, as it's less refined than white caster sugar.
Baking powder: the baking powder will help these doughnuts rise and become more fluffy. As we are using gluten-free flour, the baking powder is essential for the right texture of these doughnuts.
Salt: a tiny serving of salt will help balance the flavour profile of the doughnuts and it will also bring out the natural sweetness in some of the ingredients.
Vanilla powder: I'm a huge fan of anything vanilla flavoured! A little addition of vanilla powder will give these doughnuts a wonderful flavour - you can also use vanilla extract.
Vegan butter: the vegan butter adds fats to the recipe and helps to create a wonderful texture and help the doughnuts remain wonderfully moist.
Banana: for the egg replacement I have used a smashed banana in this recipe. It helps bind all the other ingredients together and also adds a wonderful natural flavour to these doughnuts. Ensure to mash the banana a lot before adding it to the other ingredients, or you could end up with chunks in your doughnut batter.
Equipment
Instructions (Step-by-Step)
How to make vegan 'buttermilk'
As you're probably aware, there's no ready-made vegan buttermilk available in stores - but let me show you how easy it is to make your own!
To create the vegan buttermilk for this recipe, simply combine 125 ml soy milk with one tablespoon of apple cider vinegar. Gently stir for 10 seconds, then set the mix aside for 10 minutes, ideally in the fridge. During this time the apple cider vinegar will do its job and it will curdle the soy milk, which will be the perfect buttermilk replacement and leave our doughnuts wonderfully fluffy and soft.
Making your doughnuts
Now that your buttermilk is chilling in the fridge, you can move on to the next step by mixing all your dry ingredients in a large bowl, including the buckwheat flour, brown sugar, baking powder, salt, vanilla powder.
Next, add the mashed banana and melted vegan butter to the buttermilk mixture and give it a good stir before pouring the mixture into the same bowl as the dry ingredients. You'll need to mix everything thoroughly for this to work so keep stirring!
Now pour the mixture into your greased doughnut tray and bake at 180ºC for 10 minutes. Once they're cooked, take them out of the oven and let them cool down completely before adding the glaze, which you can make whilst waiting for them to cool down.
How to make your vegan doughnut glaze
This part is really, really easy! Simply mix together all your glaze ingredients (soy milk, butter, and icing sugar). Yeah, that's it!
All you have to do now is cover your doughnuts with the glaze and let them sit for 15–20 minutes. Once the time is up, decorate with chocolate and a few almond flakes and you're ready to serve - or eat! You might also want to wait for the chocolate to dry a bit more, but that's totally up to you!
Enjoy!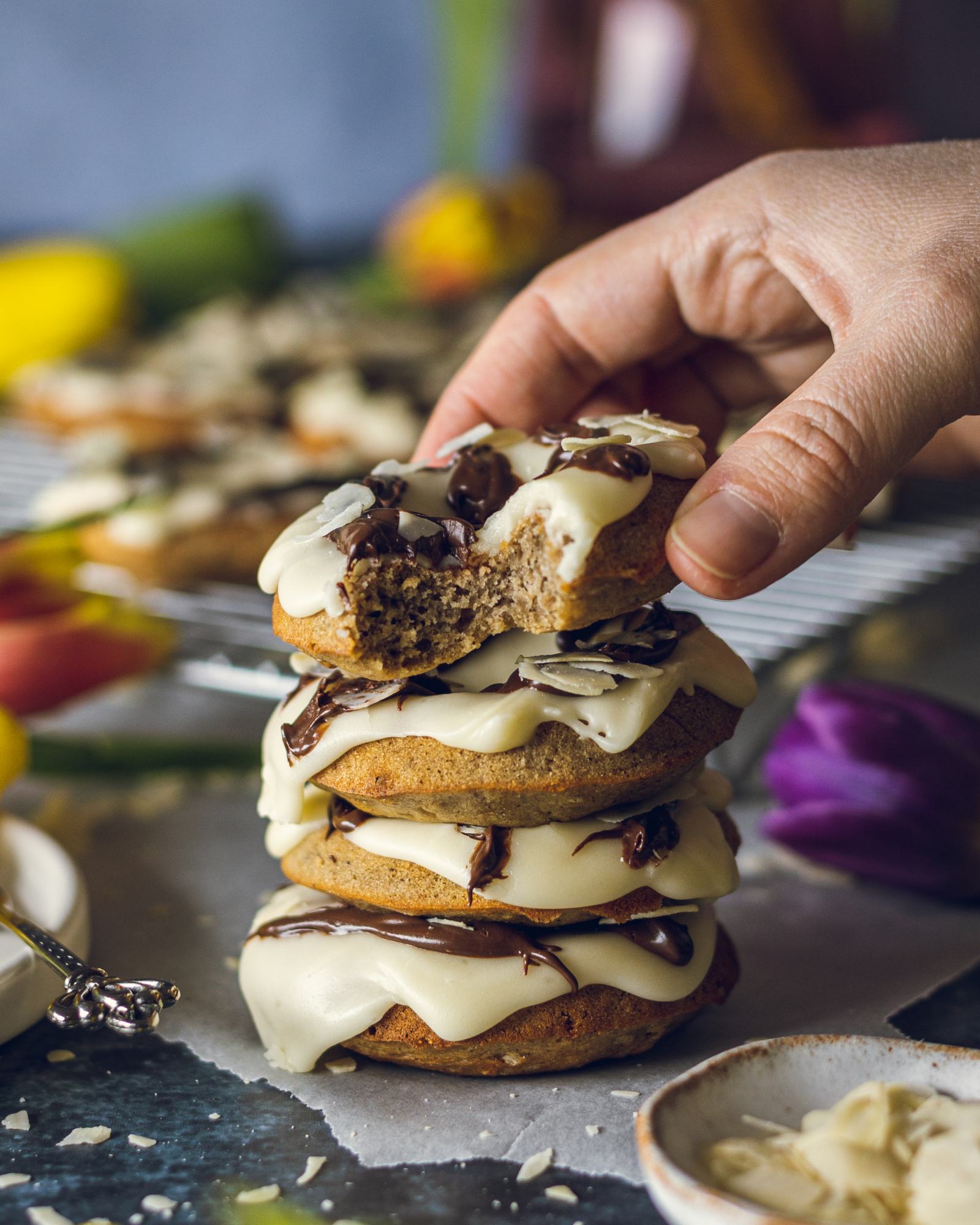 These doughnuts are:
100% vegan
dairy free
egg free
gluten-free (we're using buckwheat flour)
soft
baked
easy to make
super quick
You might also enjoy these recipes:
📌 If you love Pinterest you can pin any of the images to your boards!
Baked Vegan Doughnuts
Baked Vegan Doughnuts with Vegan Buttermilk - Soft and incredibly easy to make! The base is ready within just a few minutes.
Equipment
1 large jug

1 large mixing bowl

1 doughnut baking tray

or silicone
Ingredients
For the doughnuts:
125

ml

plant milk

e.g. soya

1

tbsp

apple cider vinegar

150

g

buckwheat flour

100

g

soft brown sugar

2

tsp

baking powder

1/4

tsp

salt

1

tsp

vanilla powder

or 2 tsp vanilla extract

3

tbsp

vegan butter

melted

1

smashed banana
For the icing:
2

tbsp

plant milk

e.g. soya

2

tbsp

vegan butter

melted

250

g

icing sugar

confectioner's sugar
For the topping:
dark vegan chocolate

melted

flaked almonds
Instructions
In a large jug, combine the soy milk with the apple cider vinegar, stir and set aside to create the vegan buttermilk.

Add the smashed banana and melted vegan butter to the vegan buttermilk and stir thoroughly.

Gently pour the wet ingredients into the bowl with the dry ingredients and stir to combine.

Add the dough to a greased doughnut tray and bake at 180ºC for 10 minutes. Let them cool down entirely before adding the glaze.

Combine the ingredients for the glaze: soy milk, butter and icing sugar and cover your doughnuts in the glaze. Let it sit for 15–20 minutes, then add the melted vegan chocolate to decorate. Top with flaked almonds and either serve directly or let them sit for the chocolate and icing to dry before serving.
Notes
Flour - If you're not gluten-free you can simply swap out the buckwheat flour for self-raising flour.
Looking for more vegan treats? Here are some of my favorites:
*Disclosure: This page may contain affiliate links and sponsored links that earn me a small commission, at no additional cost to you. You can find more information in my Privacy Policy.
 © Romy London / Romina Callwitz | All images and content are copyright protected. Please do not use my images and content without permission. If you wish to re-publish any recipes or images, please get in touch via email. Thanks for your support!