Some of you might remember that I celebrated the Chinese New Year 2017 with a selfmade Chinese dinner at home in the beginning of the year.
One of my favourite dishes were the Baozi. These are chinese stuffed and steamed buns – and yes, they are easier to make than they sound, just the shaping can take some practice 😉
Aren't these dumplings? Well, no. Even though the dough recipe is similar to Chinese dumplings, baozi are round in shape, whilst dumplings are usually differently shaped.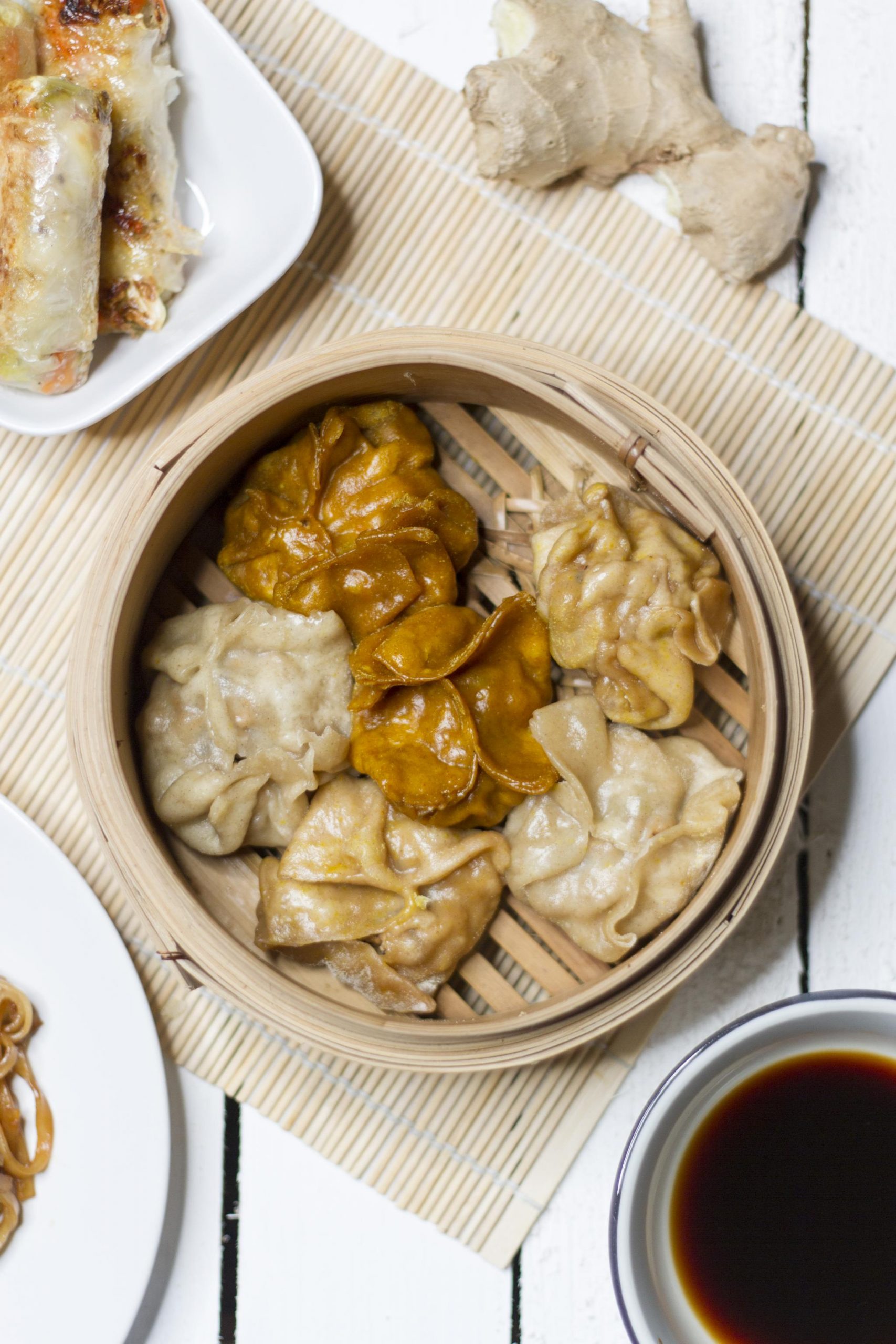 Let me show you how these are made:
Ingredients
For the dough
300g plain flour
1 packet instant yeast (about 2 ¼ tsp)
1/4 tsp sugar
150 ml water
For the filling
1 box of firm tofu
1 tbsp chopped spring onions
1 chopped garlic clove
1 inch chopped ginger
1 tsp oil
1 tsp salt
1 tsp soy sauce
Method for the dough
Heat the water until it is lukewarm and mix the yeast with the warm water and 1/4 tsp sugar. Let the mix sit for 5 minutes.
Prepare the flour in a large bowl. Pour the water with yeast slowly to the bowl and stir.
Knead the flour into a soft dough.
Cover the bowl and let the dough rest for around 1 hour or until the dough has doubled in size.
When the dough is ready, get it out of the bowl and punch the air out.
Then roll the dough into a long log around 1 inch in diameter.
Scatter some flour on your board and cut the log to small sections around 1 inch long.
Roll the small dough into round wrapper with thinner edges.
Method for the filling
Heat up the oil in a pan, then stir fry ginger and garlic until you can smell the aroma.
Add the scrambled tofu in with salt and light soy sauce. Mix well.
Remove the pan from the heat and mix in the chopped spring onions in. Then we have the fillings.
Making the baozi
Add the filling to the middle of your baozi wrapper, then start folding the baozi in a circle.
Brush some oil on the bottom of each baozi and put them into the steamer.
Heat up water in a pan and begin to steam. Steam for at least 15 minutes after the water begins to boil.
Once steamed, your baozi are ready to eat – Enjoy!

So… what to have with your baozi?
Well I have some ideas, but those recipes are probably for another day 😉